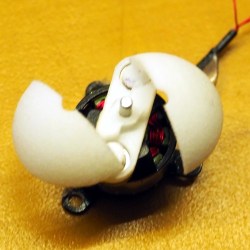 Careful planning and simulation is invaluable, but it can also be rewarding to dive directly into prototyping. This is the approach [Carl Bugeja] took with his Spherical Folding Propeller design which he has entered into the Open Hardware Design Challenge category of The 2018 Hackaday Prize. While at rest, the folding propeller looks like a small dome attached to the top of a motor. As the motor fires up, centrifugal forces cause the two main halves of the dome to unfold outward where they act as propeller blades. When the motor stops, the assembly snaps shut again.
[Carl] has done some initial tests with his first prototype attached to a digital scale as a way of measuring thrust. The test unit isn't large — the dome is only 1.6 cm in diameter when folded — but he feels the results are promising considering the small size of the props and the fact that no simulation work was done during the initial design. [Carl] is looking to optimize the actual thrust that can be delivered, now that it has been shown that his idea of a folding dome works as imagined.
Going straight to physical prototyping with an idea can be a valid approach to early development, especially nowadays when high quality components and technologies are easily available even to hobbyists. Plus it can be great fun! You can see and hear [Carl]'s prototype in the short video embedded below.