It seemed like a good idea to build a semiconductor lapping machine from an old hard drive. But there's just something a little off about [electronupdate]'s build, and we think the Hackaday community might be able to pitch in to help.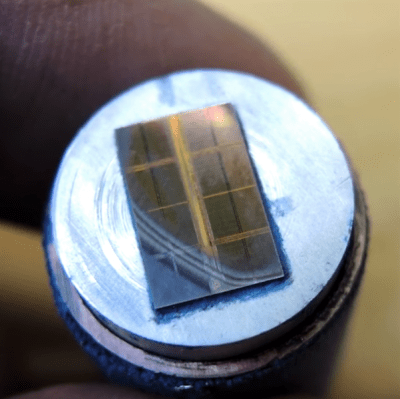 For those not into the anatomy and physiology of semiconductors, getting a look at the inside of the chip can reveal valuable information needed to reverse engineer a device, or it can just scratch the itch of curiosity. Lapping (the gentle grinding away of material) is one way to see the layers that make up the silicon die that lies beneath the epoxy. Hard drives designed to spin at 7200 rpm or more hardly seem a suitable spinning surface for a gentle lapping, but [electronupdate] just wanted the platter for its ultra-smooth, ultra-flat surface.
He removed the heads and replaced the original motor with a gear motor and controller to spin the platter at less than 5 rpm. A small holder for the decapped die was fashioned, and pinched between the platter hub and an idler. It gently rotates the die against the abrasive-covered platter as it slowly revolves. But the die wasn't abrading evenly. He tried a number of different fixtures for the die, but never got to the degree of precision needed to see through the die layer by layer. We wonder if the weight of the die fixture is deflecting the platter a bit?
Failure is a great way to learn, if you can actually figure out where you went wrong. We look to the Hackaday community for some insight. Check out the video below and sound off in the comments if you've got any ideas.
We've seen a fair number of [electronupdate]'s teardowns before, like his look inside an SMT inductor, and of course [Ken Shirriff] has done a lot of work under the hood of ICs over the years. It's fascinating stuff, and we hope he gets the kinks worked out and reveals what lies beneath.