There is an air of excitement among the hackerspaces of Europe, because this month is hacker camp season. In Denmark they have Bornhack beginning on Thursday, in Italy IHC was held earlier in the month, while here in the UK we are looking forward to Electromagnetic Field. We're excited be at Eastnor Castle for Electromagnetic Field at the cusp of August and September for several days under canvas surrounded by our community's best and brightest work. We'll even have a Hackaday Readers' Village this year!
If you've never been to a hacker camp before, this is one that's not to be missed. Technically this is camping, but where every structure from the smallest tent upwards has mains power and gigabit Ethernet. It's the equivalent of a music festival if you replace the music with technology and other cool stuff from our world. There are talks on a huge variety of fascinating subjects, the chance to see up close some of the things you'll have read about here on Hackaday, and best of all, a significant proportion of Europe's hackerspace communities all together in one place. They are a uniquely stimulating and exciting environment.
Hackaday Readers' Village Among the Highlights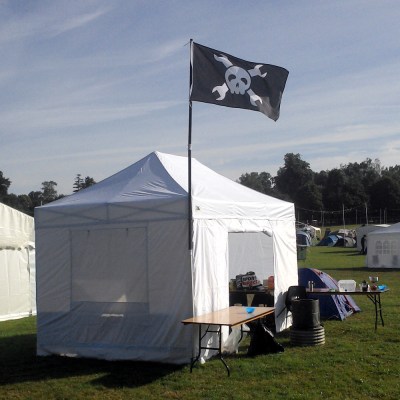 The bulk of the camp will as usual be formed of so-called villages; loose collections of tents and other structures housing people associated with a particular interest group or hackerspace.
Hackaday Readers have our own village for the first time so please feel free to join us! There will be a number special interest villages, many of the British hackerspaces and on a personal note a lot of familiar faces from close to home, but there are many villages from further afield. If the Belgian Embassy don't bring bottled beer we'll be very disappointed, meanwhile make sure to take in a stroopwafel and some quiet and tasteful music from the Netherlands. Our German friends will have got their act together far better than everyone else as they always do, and the Irish Embassy is promising tea and biscuits.
Our village is at the moment something of an open book, in that it's there for you, our readers. In the past we've hosted a bring-a-hack, we'd like to invite you along again for this and any other activities other than the usual passing the time talking shop that you might fancy. Want to host a meetup at the Hackaday Reader village? Please do. Pick you favorite topic: drones, hacked scooters, handheld gaming, HAM radio, speed soldering, let's pull together a schedule. Head over to the Hackaday.io event page and click "Join this event's team" on the left below the pictures.
Still to come: Talks and Badge
The Call For Participation has now ended, but we're in the period during which the organisers are busily compiling their talk schedule so we don't have the final programme. We've had a few tips from friends as to likely acceptances of submissions and it's not impossible there may be a Hackaday writer somewhere in the line-up, but until the official schedule has been made public it's better that we regard those tips as heresay.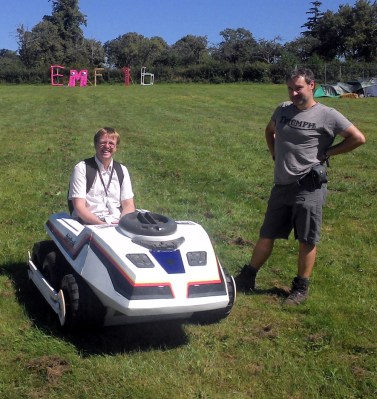 What we can say is that as with all such events the talks will be of high quality and cover an extremely wide breadth of subject matter. There will always be something on one of the stages that you'll want to see, and you'll frequently be torn between more than one choice. A good flavour of what to expect comes from their YouTube channel, where you will find talks recorded in 2016 and 2014.
We do not envy the badge team for a hacker camp. On a zero budget and with volunteer labour they have to produce something amazing, a fully functioning electronic conference badge with a breathtaking feature set that will wow the crowds and work flawlessly from day one. We applaud the team from last year's SHA2017 in the Netherlands for being so open about their progress, but we can't blame the Electromagnetic Field crew for staying tight-lipped. 2016's and 2014's badges were both tours de force, so we're happy to wait on them. The point here is after all a hacker camp, not a badge for which you have to go to a camp to receive.
Fun and Games on Wheels
There will be so much else going on at EMF Camp, but our preview ends on a personal note. This year, we'll be seeing a Hacky Racers series coming to the UK, and hackerspaces everywhere are hives of activity as comedic electric transport is created from broken toys and piles of trash. We don't yet know exactly how many racers will make it to the grid, but we've seen more than a few in the works. Watch out for them, and make sure you see them in action on the track.
So that's it then, EMF Camp is coming, Eastnor Castle, UK, August 31st to September 2nd. The trusty Volkswagen will be loaded to the gunwales with all the accouterments of a hackspace village, a hopelessly uncompetitive Hacky Racer, and probably most importantly, a small electric kettle. See you there!