Unless you've spent some time in the industrial electrical field, you might be surprised at the degree of integration involved in the various control panels needed to run factories and the like. Look inside any cabinet almost anywhere in the world, and you'll be greeted by rows of neat plastic terminal blocks, circuit breakers, signal conditioners, and all manner of computing hardware from programmable logic controllers right on to Raspberry Pis and Arduinos.
A well-crafted industrial control panel can truly be a thing of beauty. But behind all the electrical bits in the cabinet, underneath all the neatly routed and clearly labeled wires, there's a humble strip of metal that stitches it all together: the DIN rail. How did it come to be, and why is it so ubiquitous?
Standards, Please
The development of what would become DIN-rail and the terminal blocks and accessories that mount to it closely tracks the early phases of industrial electrification. As motors and other components become more and more essential to industry, so too did the need for something sensible to connect everything together. Early control panels were a mish-mash of whatever terminals could be found, often plain nuts and bolts in some kind of expedient insulator. Panels were tedious to construct, hard to maintain, and prone to failure.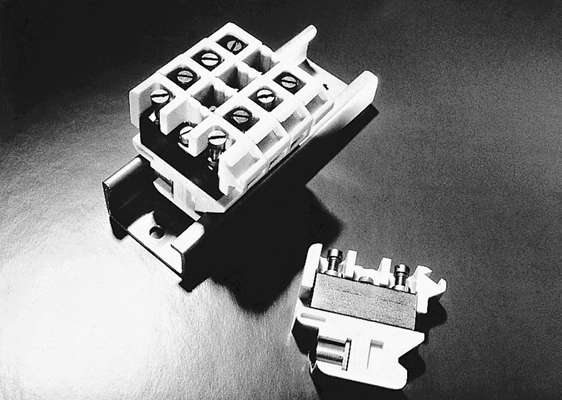 To mitigate these problems, in 1928 an electrical utility in Germany called Rheinisch-Westfälisches Elektrizitätswerk (RWE) contracted with a supplier of electrical products to develop a new modular terminal blocks system. The young company was called Phönix Elektrizitätsgesellschaft and its founder Hugo Knümann worked closely with engineers from RWE to solve the terminal block issue. (Ordnung muss sein!)
What they came up with was a small porcelain tray containing a metal bus bar. The bar made a connection between two wires through screw terminals, and the porcelain held it firmly. The blocks were designed to be closely packed into long strips, but with only one side of the block enclosed by the porcelain, some way to prevent shorts in case an adjacent block were to be accidentally installed backward would be needed. This requirement, along with the need to mount the strips firmly but still allow removal and repositioning, led to an elegant solution: an asymmetric metal rail into which the blocks could clip. The G-shaped profile would provide a firm mechanical connection, allow terminal blocks to slide laterally along the rail to allow fine positional adjustment, and importantly, prevent backward installation.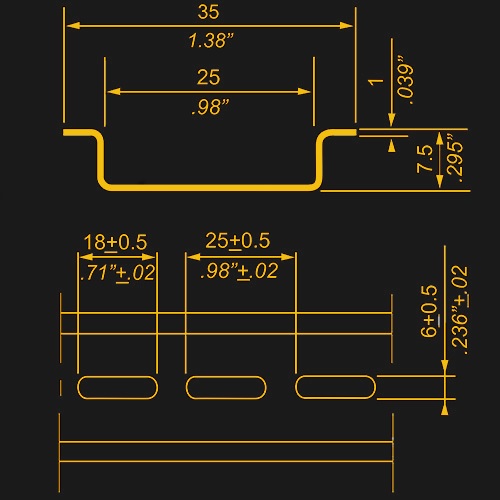 As with many innovations, the first one to come up with a design gets to set the standard, and the Knümann design became the first electrical device assembly rail, as the rail is generically known. The G-section rail and components were quickly adopted by other manufacturers, and an industry was born. The G-section was to be joined later by the "top-hat" rail, a symmetrical profile that was more suited to lighter components and which eventually became very popular, to the point where many terminal blocks are compatible with both the G and top-hat rails. A C-section rail was also developed for certain applications.
The dimensions and mechanical specifications for the profiles became standardized in the 1950s under a variety of different standards published by the Deutsches Institut für Normung (DIN), which translates to German Standards Institute. These standards have been tweaked a little over the years, and expanded to other European and international regulatory regimes. The same standards were adopted by the North American Electrical Manufacturers Association (NEMA), and today what has come to be known as the DIN rail is a truly worldwide standard.
Shake It Up
Except for special terminals that provide a ground bond to the enclosure, the electrical action on a DIN rail is entirely isolated from the metal of the rail. That means that most of the specifications for DIN rail profiles are purely mechanical, to ensure that the mounted terminal blocks stay put. Given that DIN rail panels are often put into service in extreme environments, like railways and factories, the ability of the rails to stand up to vibration and mechanical shocks is critical. Indeed, one of the early uses of the rails once they became standardized was for Germany's first nuclear power plants, as demanding an application as there is. The standards specify 350 G shock and 5 G vibration resistance
Corrosion resistance is also a big part of a DIN rail's job, and given that steel is generally the material of choice for the profiles — although not exclusively, as aluminum is used too — some kind of coating is needed. Chromating is the process of choice, which is a chemical process using chromium solutions. Most DIN rail used to have the golden cast characteristic of hexavalent chromium treatment, but as of 2006, EU rules on the reduction of hazardous substances (RoHS) and OSHA regulations in the US caused manufacturers to switch to trivalent chromium, which lends little color to the underlying zinc-plated steel and so appears silver-white.
If you look in any catalog of DIN rail accessories, like that of Phoenix Contact, the company that Hugo Knümann started, you'll find a bewildering range of products that can be mixed and matched to do just about anything electrical. It's really just LEGO for the electrical engineer, and it's all thanks to the need to neaten things up and bring some standards to the field.
[Featured images: Advanced System Design, LLC.]