By the onset of the 1990s one thing was clear, the future was digital. Analog format sales for music were down, CD sales were up; and it was evident, at least in the US, that people were bringing more computing devices into their homes. At the beginning of the decade, roughly 1 in 3 American households had a Nintendo Entertainment System in them, according to this Good Morning America segment.
With all those consoles out there, every shopping season became a contest of "who could wait in line the longest" to pickup the newest titles. This left last minute shoppers resorting to taking a rain check or return home empty handed. Things didn't have to be this way. The digital world had emerged and physical media just needed to catch up. It would take an unlikely alliance of two disparate companies for others to open their minds.
Digital, On-Demand in the Early 1990s
Enter NewLeaf Entertainment. A joint venture between IBM and Blockbuster that originally set out to revamp the way people purchased their music and home video by creating physical media on-site and on demand.
"An information network that delivers virtually any type of entertainment product digitally, on demand to retail outlets just about anywhere on the planet."
By supplying retailers with all blank CDs, VHS tapes, and jewel cases they could handle, every new release would be in stock and no older titles would ever go out of print. Paired with an interactive customer demo station, complete with 30-second song clips and a touchscreen, anyone could preview a title without the need for eye-assaulting end cap displays or retail employee intervention. All that was required would be for a customer to place an order and a little patience.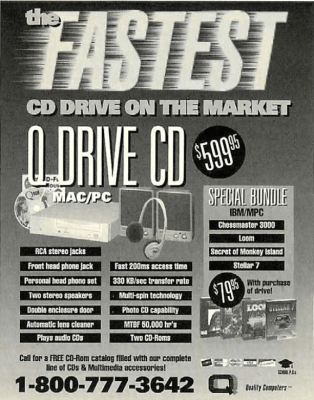 The idea was certainly sound. Consumers were already conditioned to the idea of one hour photo development services that were available at many department stores, so applying that model to CD and movie sales wouldn't be that big of a stretch. Customers would walk to the electronics section, place an order, do the rest of their shopping, then pickup their album/movie of choice before heading to checkout.
The technology needed to make their own bootleg copy simply out of reach for your average consumer. P2P files sharing was almost non-existent, Internet connections were still measured in baud. Even if someone were able to obtain an unauthorized copy, a decent CD-ROM drive, sans burning capabilities, still cost in the neighborhood of $600.
State of the Art in Duplication
According to a former NewLeaf employee, "We built an extravagant demo center…that included high speed VHS duplication, bleeding edge 4X CD-Rom burners, first generation digital color printers, and robotics to automate the fabrication and assembly of a complete piece of media with all its packaging." The typical album could be burned in the matter of a few minutes while the duplication time of movies were more variable due to the limitations of transferring to VHS tapes. The demo center's content management system was connected by optic fiber telephone lines tied back to a mainframe in order to keep track of sales, and new releases could be downloaded from the same network connection.
In theory, everything on the technology side seemed to lineup; the issue would be in getting copyright holders to agree to this new distribution method. The fact that NewLeaf's business model would essentially level the playing field for retailers regardless of size was an immediate non-starter for "The Big Six" record companies at the time.
One Cartridge, So Many Possibilities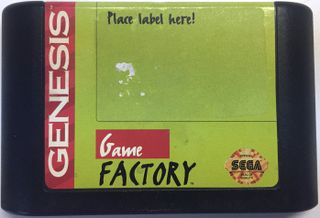 Without the support of the major record labels or movie studios, it was time to pivot from the retail space. Blockbuster Video's bread-and-butter was the rental business, and an emergent part of that business were video game rentals. Release dates in the video game industry were becoming more regimented; and with event-based release dates like Mortal Kombat's "Mortal Monday", Blockbuster would routinely run short on copies during the first week of a release. The concept of on-demand inventory generation made perfect sense for the rental business model. Additionally this was during the 16-bit era of console, the original console wars, where console manufacturers sought any and all opportunities to differentiate themselves from the competition. NewLeaf would find an ally in Sega of America who was all too eager to extend their support.
This pivot, dubbed Game Factory, was soon a reality as a collection of ten Blockbuster Video stores around the Columbia, SC area were chosen to be a test market. Machines at these stores had the ability to flash 16 Mb and 32 Mb EEPROM cartridges containing Sega Genesis games. The flashing process only took 45 seconds on average, and the bulk of Genesis games were able to fit on the two available memory capacities; though games like Virtua Racing that contained additional processors on the cartridge PCB would never be compatible.
A Victim of the Pace of Game Console Evolution
The Game Factory tests proved positive, however, it was 1994 and the revolutionary Sony PlayStation was out in Japan. The ever-evolving and proprietary nature of videogames would simply prove too much of a time sink, and in the midst of the Blockbuster-Viacom merger later that same year the entire project would be cancelled.
NewLeaf Entertainment took a bold approach to redefine the music shopping experience years before iTunes and the videogame buying experience years before Steam, but ultimately failed to convince content holders to adapt to a more consumer-centric distribution model. The one hour photo of physical media was simply too radical an idea for its day, though NewLeaf Entertainment's story is probably best told by their pitchman…Dennis Miller.