There's a bunch of companies selling wireless Super Nintendo style controllers out there. You can go on Amazon and get any number of modern pads that at least kinda-sorta look like what came with Nintendo's legendary 1990's game console. They've got all kinds of bells and whistles, Bluetooth, USB-C, analog sticks, etc. But none of them are legitimate SNES controllers, and for some people that's just not good enough.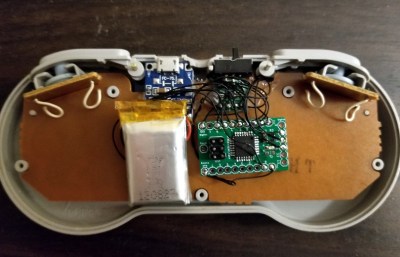 [sjm4306] is one of those people. He wanted to add Bluetooth and some other modern niceties to a legitimate first-party SNES controller, so he picked up a broken one off of eBay and got to work grafting in his custom hardware. The final result works with Nintendo's "Classic Edition" consoles, but the concept could also work with the original consoles as well as the computer if you prefer your classic games emulated.
A custom ATMEGA328P-powered board polls the controller's SPI serial shift register in much the same way the original SNES would have. It then takes those button states and sends them out over UART with a HC-05 Bluetooth module. The controller is powered by a 330 mAh 3.7V battery, and a charging circuit allows for easily topping the controller off with a standard USB cable.
A particularly nice touch on the controller is the use of custom light pipes for the status LEDs. [sjm4306] made them by taking pieces of transparent PLA 3D printer filament, heating and flattening the end, and then sanding it smooth. This provides a diffusing effect on the light, and we've got to say it looks very good. Definitely a tip to file away for the future.
On the receiving side, this project was inspired by a custom NES Classic Edition Advantage controller we featured last year, and borrows the work creator [bbtinkerer] did to get his receiver hardware talking to the Classic console over I2C.
We've seen a number of projects which have added wireless functionality to the classic Super Nintendo controller, but most tend to be more invasive than this one. We like the idea of reading the controller's original hardware rather than completely gutting it.