There was a time, not so long ago, when hype for desktop 3D printing as so high that it seemed you could print anything. Just imagine it, and your handy dandy magical 3D printer could manifest it into reality. But now that more people have had first hand experience with the technology, the bubble has burst. Reality has sobered us up a bit, and today we've got a much better idea of what can and cannot be printed on a traditional desktop 3D printer.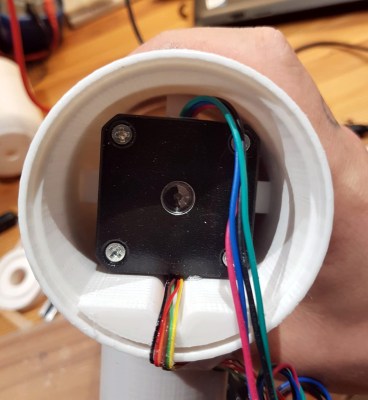 But that doesn't mean we aren't surprised from time to time. As a perfect example, take a look at this almost entirely 3D printed wind turbine designed and built by [Nikola Petrov]. Outside of the electronics, the pole it's mounted to, and some assorted bits and bobs, he produced all the parts on his own large-format TEVO Black Widow printer. He mentions there are a few things he would do differently if he was to build another one, but it's hard to find much to complain about with such a gorgeous build.
To be sure, this one isn't for the 3D printing novice. First of all, you'll need a printer with a bed that's at least 370 mm wide just to print the blades. [Nikola] also recommends printing the parts in ABS and coating them with acetone to smooth and harden the outside surfaces. We'd be surprised if you could print such large objects in ABS without a heated enclosure as well, so plan on adding that to your shopping list.
On the flip side though, the electronics are about as simple as they come. The blades are spinning a standard NEMA 17 stepper motor (through a 1:5 gearbox) to produce AC power. This is then fed into two W02M rectifiers and a beefy capacitor, which gives him DC with a minimum of fuss. In theory it should be capable of producing 1A at 12V, which is enough to light LEDs and charge phones. In this design there's no battery charging circuit or anything like that, as [Nikola] says it's up to the reader to figure out how to integrate the turbine into their system.
If you don't think your 3D printing skills are up to the task, no worries. In the past we've seen wind turbines built out of ceiling fans, and occasionally, even less.