On October 24th, 2003 the last Concorde touched down at Filton Airport in England, and since then commercial air travel has been stuck moving slower than the speed of sound. There were a number of reasons for retiring the Concorde, from the rising cost of fuel to bad publicity following a crash in 2000 which claimed the lives of all passengers and crew aboard. Flying on Concorde was also exceptionally expensive and only practical on certain routes, as concerns about sonic booms over land meant it had to remain subsonic unless it was flying over the ocean.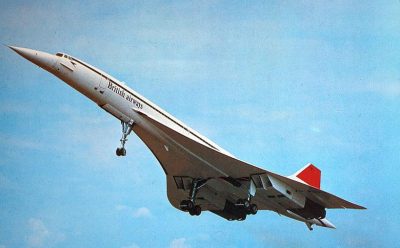 The failure of the Concorde has kept manufacturers and the civil aviation industry from investing in a new supersonic aircraft for fifteen years now. It's a rare example of commercial technology going "backwards"; the latest and greatest airliners built today can't achieve even half the Concorde's top speed of 1,354 MPH (2,179 km/h). In an era where speed and performance is an obsession, commercial air travel simply hasn't kept up with the pace of the world around it. There's a fortune to be made for anyone who can figure out a way to offer supersonic flight for passengers and cargo without falling into the same traps that ended the Concorde program.
With the announcement that they've completed the initial design of their new Affinity engine, General Electric is looking to answer that call. Combining GE's experience developing high performance fighter jet engines with the latest efficiency improvements from their civilian engines, Affinity is the first new supersonic engine designed for the civil aviation market in fifty five years. It's not slated to fly before 2023, and likely won't see commercial use for a few years after that, but this is an important first step in getting air travel to catch up with the rest of our modern lives.
An Engine with Pedigree
Jet engine technology has advanced quite a bit since the Olympus 593 engine which powered the Concorde fired up for the first time in 1966. Advancements in material science and computerized control systems have made engines lighter and smarter, and GE intends to fully capitalize on all those advancements with Affinity. But that's not to say the engine is a completely new creation; in fact, its lineage can be tracked back to a time not so far removed from the Concorde.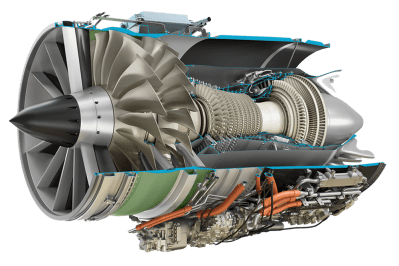 GE designed the F101, their first turbofan engine with an afterburner, to power the Rockwell B-1 Lancer strategic bomber in 1970. Even though the B-1 itself suffered through a rocky development process, the engine was an unqualified success and ended up being spun off into two different successors: the F110 for fighter jets (such as the F-14, F-15, and F-16) and the CFM56 for civil use.
While the CFM56 was completed in 1974, it wasn't until the early 1980's that it started seeing use in the civilian market. There were some critical issues with early versions of the CFM56 which lead to several fatalities, but these were addressed in subsequent revisions of the engine. It eventually went on to become one of the most popular turbofan's in history, with a cumulative flight time approaching one billion hours.
Affinity is based on the proven CFM56 core, with optimizations for supersonic operation such as a smaller fan diameter to reduce wave drag. The engine will also use the latest in Full Authority Digital Engine Control (FADEC) technology to improve efficiency and reliability in subsonic and supersonic modes. With a maximum speed of around Mach 1.6 it will fall a bit short of the Concorde, but is still twice as fast as modern airliners such as the Airbus A330. Reportedly a cruise speed of Mach 1.4 was selected as a compromise between performance and efficiency, while still allowing the engine to adhere to noise regulations during takeoff and landing.
Wagon Built for a Thoroughbred
Of course, a new supersonic civilian engine doesn't do much good if there's no aircraft currently on the market that can utilize it. Like its predecessor the CFM56, Affinity will be arriving to the party a bit early. When manufacturers are ready to start developing new supersonic civilian aircraft there's going to be an engine waiting for them, and GE will have the market cornered.
But they might not have to wait as long as they did for the CFM56. A number of supersonic passenger aircraft are currently being developed, with the farthest along being the Aerion AS2. Designed in conjunction with GE and the legendary Lockheed Martin "Skunk Works", the AS2 is a business jet that is currently slated to begin operation in 2026. Test flights however could start as soon as 2023, which coincides with GE's plans for Affinity.
Flights of Fancy
While Affinity and aircraft like the Aerion AS2 are exciting prospects, they're still years away from entering service and anything can happen before then. Just like the loss of VSS Enterprise and co-pilot Michael Alsbury pushed back Virgin Galactic's plans for civilian suborbital flights, an incident during the testing of AS2 could derail supersonic passenger flights for years. Both GE and Aerion have stated they see no serious technical hurdles with the program, but the fact remains that both engine and aircraft are today little more than CAD files and press renderings.
But even with cutting edge technology, some of the key challenges the Concorde faced such as high ticket price and limited supersonic routes still remain. Even if a new generation of civilian aircraft and engines can pierce the sound barrier, breaking the economic barrier might still prove the greater challenge.