Most of the DIY smartwatch projects we feature here on Hackaday aren't exactly what most people would consider practical daily-use devices. Clunky designs, short battery life, limited functions: they're more a wearable display of geek cred than they are functional timepieces. Oddly enough, the same could be said of many of the "real" smartwatches on the market, so perhaps the DIY versions are closer to the state-of-the-art than we thought.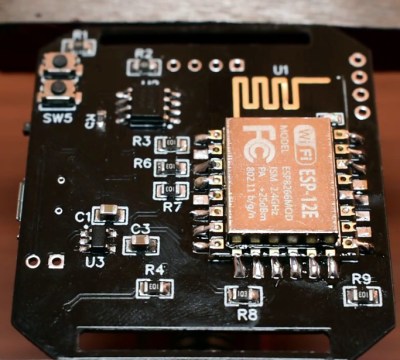 But this ESP8266 smartwatch created by [Shyam Ravi] is getting dangerously close to something you could unironically leave the house with. It's still missing an enclosure that prevents you from receiving PCB acupuncture while wearing it, but beyond than that it has a more than respectable repertoire of functions. It even seems to be a fairly reasonable size (with the potential to be even smaller). All that with a total build cost of less than $20 USD, and we're thinking this might be a project to keep an eye on.
Not content with a watch that simply tells the time, [Shyam] added in a weather function that pulls the current conditions for his corner of the globe from the Yahoo weather API and displays it above the time and date on the watch's multi-color OLED display when the center button is pressed. Frankly, given the state of DIY watches, that would already have been impressive enough; but he didn't stop there.
The left and right buttons control Internet-connected relays which [Shyam] uses to turn his lights and air conditioner on and off. When he presses the corresponding button, the watch will even display the status of the devices wherever his travels might take him.
A smattering of DIY watches pass by our careful gaze, though it's been a while since we've seen an ESP8266 watch. More recently we've seen an Arduino watch, and some downright gorgeous analog creations.
[Thanks to BaldPower for the tip.]