The failed launch of Soyuz MS-10 on October 11th, 2018 was a notable event for a number of reasons: it was the first serious incident on a manned Soyuz rocket in 35 years, it was the first time that particular high-altitude abort had ever been attempted, and most importantly it ended with the rescue of both crew members. To say it was a historic event is something of an understatement. As a counterpoint to the Challenger disaster it will be looked back on for decades as proof that robust launch abort systems and rigorous training for all contingencies can save lives.
But even though the loss of MS-10 went as well as possibly could be expected, there's still far reaching consequences for a missed flight to the International Space Station. The coming and going of visiting vehicles to the Station is a carefully orchestrated ballet, designed to fully utilize the up and down mass that each flight offers. Not only did the failure of MS-10 deprive the Station of two crew members and the experiments and supplies they were bringing with them, but also of a return trip which was to have brought various materials and hardware back to Earth.
But there's been at least one positive side effect of the return cargo schedule being pushed back. The "Spaceborne Computer", developed by Hewlett Packard Enterprise (HPE) and NASA to test high-performance computing hardware in space, is getting an unexpected extension to its time on the Station. Launched in 2017, the diminutive 32 core supercomputer was only meant to perform self-tests and be brought back down for a full examination. But now that its ticket back home has been delayed for the foreseeable future, NASA is opening up the machine for other researchers to utilize, proving there's no such thing as a free ride on the International Space Station.
Off-World, Off-The-Shelf
To be sure, the Spaceborne Computer is the most computationally powerful machine currently operating in space by a wide margin. But unlike most previous computers intended for extended service in space, it doesn't rely on bulky shielding or specifically "rad hardened" components. It uses largely stock component's from HPE's line of high performance computers, specifically Apollo 4000 servers loaded with Intel Broadwell processors. The majority of the custom design and fabrication went into the water-cooled enclosure that can integrate with the Station's standard experiment racks and power distribution system.
Instead of physically shielding the system, the Spaceborne Computer is an experiment to see if the job of defending against the effects of radiation could be done through software and redundant systems. Cosmic rays have been known to corrupt storage devices and flip bits in memory, which are situations the Spaceborne Computer's Linux operating system was specifically modified to detect and compensate for. During its time in space the computer has also had to deal with fluctuating power levels and regular drops in network connectivity, all of which were handled gracefully.
Which is not to say the machine has gone unscathed: ground controllers have noted that nine of its twenty solid-state drives have failed so far. After only a little more than a year in space, that's a fairly alarming failure rate for a technology that on Earth we consider to be a proven and reliable technology. A detailed analysis of the failed drives will be conducted whenever the Spaceborne Computer can hitch a ride back down to the planet's surface, but as with most unexpected hardware failures in space, radiation is considered the most likely culprit. The findings of the analysis may prove invaluable for future deep-space computers which will almost certainly be using SSDs over traditional disk drives for their higher energy efficiency and lower weight.
Keeping it Local
Whether on the Station or a future mission to the Moon or Mars, there's a very real need for high-performance computing in space which boils down to one simple fact: calling home is difficult. Not only is the bandwidth of space data links often anemic compared to even your home Internet connection, but they are notoriously unreliable. Plus as you get farther from Earth, there's also the time delay to consider. At the Moon it only takes a few seconds for signals travelling at the speed of light to make the trip, but on Mars the delay can stretch to nearly a half an hour depending on planetary alignment.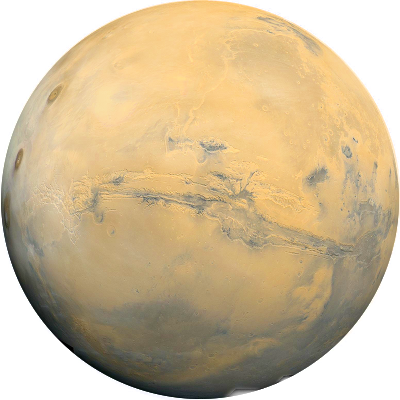 Even just one of these problems is enough of a reason to process as much data as possible onboard the vehicle itself rather than sending it back to Earth and waiting on a reply. Your Amazon Echo might be able to get away with offloading computational heavy tasks to servers in the cloud while still providing you seemingly instantaneous results, but you won't have that luxury while in orbit around the Red Planet. As astronauts get farther from Earth, they must become increasingly self reliant. That's as true for their data processing requirements as it is their ability to repair their own equipment and tend to their own medical needs.
While astronauts on the International Space Station don't have much of a delay to contend with, they don't want to saturate their data links either. HPE imagines a future where the feeds from the Station's Earth-facing 4K cameras could be processed onboard in real time, searching for things like weather patterns and vegetation growth. In perhaps the most mundane application, a high powered computer aboard a spacecraft could work in conjunction with the vehicle's radio to provide rapid compression and decompression of data; offering a relatively cheap way to wring more throughput from existing communication networks.
First in Class
Space is a fantastically cruel place. From the stress of launching into orbit to operating in a micro-gravity environment, hardware is subjected to conditions which are difficult to simulate for Earth-bound engineers. Sometimes the easiest solution is to simply launch your hardware and observe how it functions. It's what Made in Space did with their 3D printer, and now what Hewlett Packard Enterprise has done with their server hardware.
When the Spaceborne Computer finally hitches a ride back down to Earth sometime in 2019, researchers will have to make do with the Station's normal compliment of computers: various laptops and the occasional Raspberry Pi. But now that NASA and HPE have gone a long way towards proving that largely off-the-shelf servers can survive the ride into space and operate in orbit for extended periods of time, it seems inevitable that history will look back on the Spaceborne Computer as the first of many such machines that explored the Final Frontier.