If you've ever looked into CNC cutting tools, you've probably heard the term "feeds and speeds". It refers to choosing the speed at which to spin the cutting tool, and how fast to plow it into the material being cut. They're important to get right, and some of the reasons aren't obvious. This led [Callan Bryant] to share his learned insights as a first-timer. It turns out there are excellent (and somewhat non-intuitive) reasons not to simply guess at the correct values!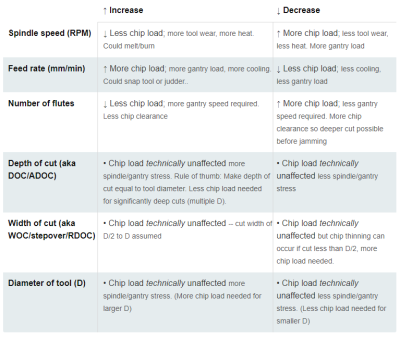 The image above shows a tool damaged by overheating. [Callan] points out that as a novice, one might be inclined to approach a first cutting jobs conservatively, with a low feed rate. But doing this can have an unexpected consequence: a tool that overheats due to spinning too quickly while removing too little material.
CNC cutting creates a lot of heat from friction, and one way to remove that heat is by having the tool produce shavings, which help carry heat away. If a tool is making dust instead of shavings — for example if the feed rate is too conservative — the removed pieces will be too small to carry significant energy, and the tool can overheat.
[Callan] makes a table of variables at work in a CNC system in order to better understand their relationship before getting into making a formula for calculating reasonable feed and speed rates. Of course, such calculations are a reasonable starting point only, and it's up to the operator to ensure things are happening as they should for any given situation. As our own Elliot Williams observed, CNC milling is a much more manual process than one might think.