If you've ever had trouble with a footpath, bus stop, or other piece of urban infrastructure, you probably know the hassles of dealing with a local council. It can be incredibly difficult just to track down the right avenue to report issues, let alone get them sorted in a timely fashion.
In the suburban streets of one Australian city, though, that's changing somewhat. New smart garbage trucks are becoming instruments of infrastructure surveillance, serving a dual purpose that could reshape urban management. Naturally, though, this new technology raises issues around ethics and privacy.
Trucks With Eyes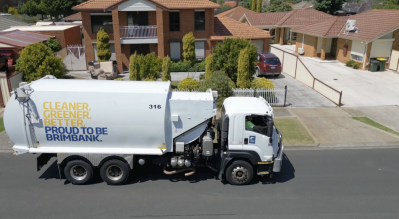 The new technology is known as the Mobile IoT-RoadBot. It's the kind of buzzword soup that could only be cooked up by committee. Thus, it's no surprise that the project was a collaborative effort between Swinburne University and Brimbank City Council. At the heart of this system are high-resolution cameras affixed to garbage trucks. As these vehicles traverse the city, they  continuously stream video data of their surroundings. This data is then subjected to analysis by AI algorithms, designed to detect and identify anomalies like damaged road signs and battered bus shelters.
During a two-week trial in Melbourne's western suburbs, the system transmitted video data over the 5G mobile network. Realistically, though, the project would function just fine with lesser infrastructure, too. Over a 9 hour shift, a single truck would stream roughly 5 GB of data, a rate that even 3G cellular networks could readily achieve. The fleet of 11 trucks covered a roughly 123 square-kilometer area during the period of the trial.
The key value of this technology is that it gives Brimbank City Council a continuously-updated picture of the state of its physical infrastructure. Instead of waiting for reports from aggrieved residents, it regularly gets updates as to the state of the city every time a garbage truck heads out on its route. The system is capable of automatically identifying the location of damaged assets in need of repair. It's easy to imagine the system being set up to automatically task maintenance teams to tackle problems as they arise.
There's an undeniable efficiency in leveraging garbage trucks, which are already navigating the streets, thereby eliminating the need for dedicated inspection teams. I This not only streamlines the process but reduces redundancy. Moreover, with the immediacy of real-time data analysis, issues are addressed faster, ensuring swift and efficient upkeep of the city's infrastructure. This offers the opportunity to solve issues before they are even raised by locals irate about their crumbling playground or missing bus stop. Plus, from a financial perspective, less reliance on inspection crews equates to tangible savings, making the entire process more cost-effective.
I Love Big Brother
Yet, for all its merits, the technology doesn't come without concerns. Central to these apprehensions is the phenomenon of 'scope creep,' where data is used beyond its initial intended purpose. As these omnipresent cameras capture everything in their vicinity, they unintentionally amass data, such as vehicle number plates or images of unsuspecting pedestrians. This data, once captured, is ripe for the picking. Just as authorities have leapt on Ring cameras and other home cameras as a source of intelligence, it's easy to assume the same would be true here.
That could be a bridge too far for some. By and large, humans in the developed world have become used to ever-present surveillance in public spaces, such as supermarkets, shopping malls, and public parks. Having  surveillance cameras regularly running through residential neighbourhoods is another thing entirely. Many would prefer their activities at home go uncaptured, even from the street. At the same time, someone with a lost pet or stolen bike might be champing at the bit to use the footage for their own benefit. The positive use cases are as numerous as the negative ones. The problem is, once the technology is implemented and the data is captured, the genie is out of the bottle. The data will be used as authorities decide is appropriate. That's seldom in line with any one individual's opinion of what's right.
The research paper considers this factor, and lays out a deep and rich framework for ethical use of AI. It's valuable work, though as always, is subject to human foibles. As much as a system's designers might aim to avoid scope creep and misuse of their technology, and even codify those aims on paper, ultimately, humans will do what humans will do.
In conclusion, the project shows the potential of simple machine learning systems to automate humdrum everyday tasks. It's easy to see that any council would appreciate the value of such a system.  However, it also serves as a potent reminder of the need to tread carefully, ensuring that in our quest for government efficiency, we don't compromise on ethics or privacy. Whether any local government can claim to achieve that is yet to be seen.