Sometimes you find something that looks really cool but doesn't work, but that's an opportunity to give it a new life. That was the case when [Davis DeWitt] got his hands on a weird Soviet-era box with four original Nixie tubes inside. He tears the unit down, shows off the engineering that went into it and explains what it took to give the unit a new life as a clock.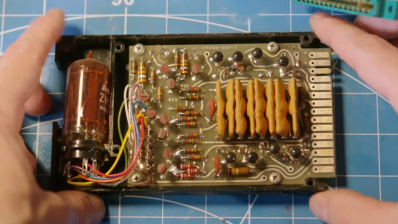 A lot can happen over decades of neglect. That was clear when [Davis] discovered every single bolt had seized in place and had to be carefully drilled out. But Nixie tubes don't really go bad, so he was hopeful that the process would pay off.
The unit is a modular display of some kind, clearly meant to plug into a larger assembly. Inside the unit, each digit is housed in its own modular plug with a single Nixie tube at the front, a small neon bulb for a decimal point, and a bunch of internal electronics. Bringing up the rear is a card edge connector.
Continues after the break…
Nixie tubes require around 170 V to light up, and they usually have a single anode and ten cathodes, one for each digit. There are modern driver boards that make Nixie projects a snap, but [Davis] discovered this unusual device had dual-anode tubes. In a dual-anode tube, each cathode — there are five in all, not ten — connects to two digits each. Which of the two lights up is determined by which anode is active. One anode connects to the even numbers, and one to the odd numbers. [Davis] ended up swapping the tubes for single-anode versions and putting the original dual-anode versions somewhere safe.
The result is a sturdy piece of computing history (like other Soviet-era display components we have seen) whose original purpose might be lost, but has gained a new life as a functional clock. You can watch [Davis] walk through the whole process in the video embedded just under the page break.