If there's one thing we love to see around here, it is the various iterations of a project. If you keep up with Keebin', you know that [Michael Gardi] created a tile-based macropad after developing a tile system for yet another project. This macro pad would have 3D-printed tiles next to the keys that would not only make them easy to relabel, but give [Michael] a novel way to change the function when changing the tile using magnets and Hall effect sensors.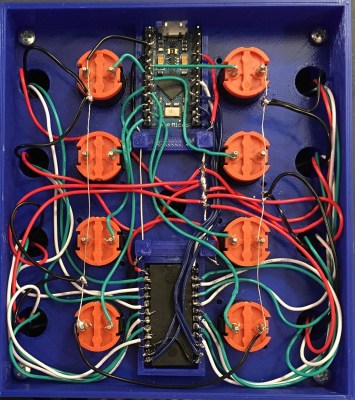 Well, fast forward to [Michael] actually using the thing, and he's found that, more often than not, he's pressing the tiles instead of the keys next to them. So it was time for another iteration: a macro pad with tile buttons. Much like the previous iteration, this one uses a Pro Micro for a brain and a handful of very cool Futaba MD switches that bear Cherry MX stems.
Those Futaba switches are activated by tile holder buttons, which were quite the feat to create. These tile holder buttons each contain two Hall effect sensors and have a Cherry MX-style recession on the other side to connect to the Futaba. Unfortunately, some usage has already damaged the connections, so the next iteration will include small PCBs for surface-mount Hall effect sensors and a main PCB, as well.
[Michael] can make these pretty cheaply, but are they cheap enough to be given away?