What is this?  A circular saw for ants?!
There isn't much information we could find on this one (sorry, no source files that we know of), but this little hack is so playful and fun, we just had to share it with you. [Lance Abernethy] has built both a working cordless drill, and circular saw using nothing more than a 3D printer, what seems to be a pager-type vibration motor, a tactile switch and a coin cell battery – you can see them both working in the video after the break.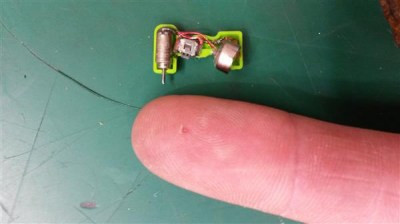 [Lance] used an Ultimaker 2, running a 0.25mm nozzle, and printing at a 0.04mm layer height in PLA. As you would expect, the 0.25mm nozzle is needed for such small parts – it's also close to the limit of what extruder can still squeeze plastic through. it greatly increases the chance of blocked or clogged nozzles.
[Lance] admits that the saw can't quite cut anything just yet, but he does say that he has plans to make more miniature cordless tools.  We can't wait to see how he might manage the mechanism for a jig-saw.
[VIA adafruitdaily.com newsletter]
Continue reading "World's Smallest Cordless Power Tools, 3D Printed Of Course" →