The Travelling Hacker Box is the physical implementation of the hackaday.io community. While most of what happens on hackaday.io happens online, sometimes the activities leak out to the real world. One such activity is a box, filled with random electronics stuff, shipped around to different members of the hackaday.io community.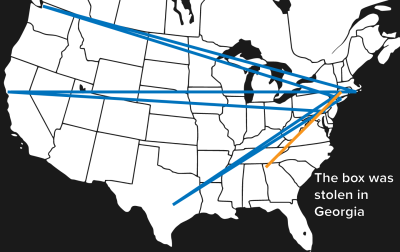 It's a great idea in theory. In practice, people are bastards. The first Travelling Hacker Box was stolen by a member of the hackaday.io community. After travelling 14,167 miles through Philadelphia, San Francisco, Boston, Seattle, New York, Boston again, and the middle of Texas, the first travelling Hacker Box met its fate along the Georgia border, two hours outside of Atlanta. Who is responsible? We're not going to talk about him. He knows who he is and what he did.
All is not lost, even though hundreds of dollars in electronic doo dads are. There's a new Travelling Hacker Box already on its way around the US. It's slowly being filled up with goodies, and has already visited Wyoming and upstate New York, and is currently somewhere around Anchorage, AK. The latest update shows this box is filled with goodies including a mini CRT assembly from an old camcorder, stepper motor drivers, and other weird electronics paraphernalia.
The current plan for the Travelling Hacker Box is the same as the old box: put 25,000 miles on the odometer while taking advantage of the economics of a USPS flat-rate box. From there, it will go further afield, travelling the circumference of the Earth a second time, hitting stops in Europe, Africa, Asia, India, Australia, and South America. If you're a subcontractor for Raytheon, part of the NY Air National Guard, or are otherwise able to receive mail in Antarctica, you are encouraged to email me.
Feel like you're up for adding a few hundred miles to the Travelling Hacker Box? There's no set process to get on the list; destinations are chosen by distance from the current node, trustworthiness, and distance to the next node, if planned. The best way to get on the list is to click the 'Request to join this project' link on the Travelling Hacker Box project. Then, hang out in the Hacker Box chatroom, and you might have a chance at receiving a magical box of random electronics.