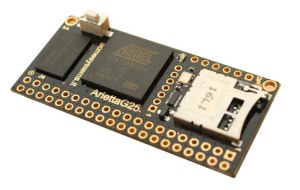 This tidy little ARM board is the Arietta G25. It's based around an AT91SAM9G25 which is an ARM9 chip running at 400MHz. Paired with the DDR2 RAM (in 128 or 256 meg options) to the left, the board runs Linux and runs it well. After the break you can see the obligatory running of Doom. But in this case it doesn't just run a demo, but is playable from momentary push buttons on a breadboard (props to the Arietta team for using wire wrap for that setup).
See the vertical row of pads between the processor and the SD card slot? That's a breakout header designed to accept a WiFi module. In at €20-30 based on your RAM choice and just €7 for the WiFi module this board is certainly a contender for any embedded Linux projects. But it does have us wondering, should be thinking of these as ARM boards, or forget the low-level development and just think of them as a Linux machines with plenty of GPIO available?
The 20×2 pin header breaks out a lot of the SAM9's features. We really like the interactive pinout posted for this device. For instance, there are three sets of USB host lines available. But you'll want to click on each to see that one set is in use for the SD card, and another is used by the WiFi module. The documentation that has been posted for the Arietta G25 is one of its strongest point. Nice work there!
Continue reading "Arietta G25 Has Us Wondering Where ARM Boards Are Going" →