A camera obscura is a very simple device. Consisting of a dark chamber, with only a pinhole to let light in, it focuses an image on its inside surface. If you want to take a permanent copy, it's as simple as installing a photosensitive film inside and managing the exposure time. Sounds like a normal camera, right? The difference is the scale —  a camera obscura is large enough that humans can stand inside and view the image. Usually, they are large stationary rooms. [Physics Girl] took the show on the road by building a camera obscura out of a rented box truck.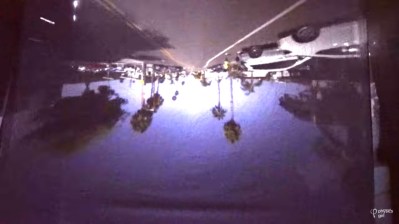 The basic concept is a great one – hire a box truck, and cover the rear opening with cardboard. Cut a small hole in the cardboard, and you've created a camera obscura on wheels. The video does a great job of explaining the optical principles behind what's happening, and there's even experimentation around how to change the exposure level and focus through modification of the aperture.
The only downside to viewing a camera obscura on video is that you can't appreciate the resolution and detail visible in real life. Trust us though, it's better than any HDTV on the market today.
The rolling camera obscura makes for a great experiment which requires little more than some cardboard, tape, and a sunny day. It would be great fun to execute as an educational activity at a school or makerspace. Once you've tackled that, perhaps consider the digital version. Video after the break.
[Thanks to Baldpower for the tip!]
Continue reading "Camera Obscura On Wheels Hits The Open Road" →