With little more than pen, paper, dice, and imagination, a group of friends can transport themselves to another plane for shenanigans involving dungeons and/or dragons. An avid fan of D&D and a budding woodworker, Imgurian [CapnJackHarkness] decided to build gaming table with an inlaid TV for their inaugural project.
The tabletop is a 4'x4′ sheet of plywood, reinforced from underneath and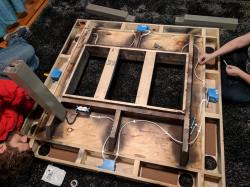 cut out to accommodate a support box for the TV. Each leg ended up being four pieces of 1'x4′ wood, laminated together with a channel cut into one for the table's power cable. An outer ledge has dice trays — if they're even needed in today's world — ready for all those nat 20s, cupholders because nobody likes crying over spilled drinks, and electrical outlets to keep devices charged. Foam squares cover the tabletop which can be easily removed and washed if needed — but more on that in a second. [CapnJackHarkness] painted the table as the wood rebuffed many attempts at staining, but they're happy with how it turned out.