If you understand technology, there were a lot of things hard to explain on Star Trek. Transporters, doors that were smart enough to open unless you hit them during a fight, and the universal translator all defy easy explanation. But one of the hardest things to explain were Mr. Spock's sensors. From the ship or with a tricorder, Spock could sense at a distance just about anything from chemical compositions, to energy, and even the presence of life (which, today, at least, is difficult to determine even what that means).
Remote sensing would have a very distinct use in today's world: finding terrorist bombs earlier. A recent article published on New Scientist by [Debora MacKenzie] points out that stopping attacks like the recent one in Brussels is difficult without increasing congestion. For example, putting checkpoints at doors instead of inside transit stations is common in Asia, but causes lines and delays.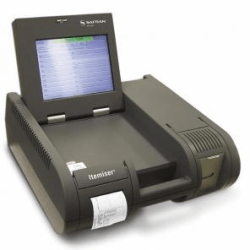 The United States has used ion mobility spectrometry (IMS) to detect explosive traces on swabs (using machines like the one on the left). However in the early 2000's they experimented with a version of the device that used puffs of air to determine if people had explosives while they passed by the machine. By 2010, officials decided the machines broke down too often and stopped using them.
Remote Sensing in Practice
According to an expert at Rand Corporation, remote sensing is likely to employ imaging or sniffers. However, imaging solutions are easy to fool since a bomb can take the shape of an ordinary object. Sniffers, including biological sniffers (known as dogs), are harder to fool. The problem is that deploying thousands of dogs to cover the world's airports is difficult.
Continue reading "Remote Sensing Bombs Could Stem Terrorism" →