It's not as flashy as Tesla coils or electric vehicles going 200 mph, but the environment is more important than a bunch of cool baubles and sparks flying everywhere. When it comes to this year's Hackaday Prize, you're going to need a project that matters, and what's a better way to do it than with something to help the environment?
While not traditionally a domain that rocks people's socks, there are a lot of cool builds that can help the environment like this hyperspectral imager that's a mashup of a spectrometer and a camera, or something that takes an image of an object, complete with the spectral data of each pixel. It's useful for everything from farming, to forestry, to medicine.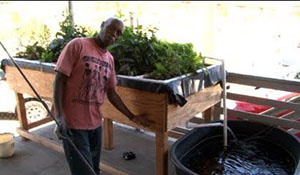 Perhaps you want to get your hands messy by mucking about in the dirt. You'll probably find something interesting to build for this year's Hackaday Prize, like the modular farmer's market we saw in Detroit last year. How about an urban farming and aquaponics setup? Tilapia do well in giant buckets, you know.
If robots are more your speed, then how about an RC tractor or an entire robotic farm? You could always eradicate invasive plants with a quadcopter if flying around is more suited to your expertise. There are plenty of ways to do something that matters for this year's Hackaday prize, but we'd be lying if we had all the answers. That's where you come in with your entry for The Hackaday Prize.