After ESA's Jupiter-bound space probe Juice (Jupiter Icy Moons Explorer) launched on April 14th of this year, it initially looked as if it had squeezed out a refreshingly uneventful deployment, until it attempted to unfurl its solar panels and antennae. One of these antennae, for the RIME (Radar for Icy Moons Exploration) instrument that uses ice-penetrating radar to get a subsurface look at Jupiter's moons, ended up being rather stuck. Fortunately, on May 12th it was reported that ESA engineers managed to shock the sticky pin loose.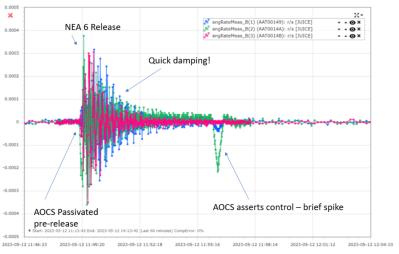 We previously covered the discovery of Juice's  RIME antenna troubles, with one of the retaining pins that hold the antenna in place in its furled position stubbornly refusing to shift the few millimeters that would have allowed for full deployment. Despite the high-tech nature of the Juice spacecraft, the optimal solution to make the pin move was simply to try and shake it loose.
Attempts were initially made using the spacecraft's thrusters to shake the whole vehicle, as well as by warming it in sunlight. Each of these actions seemed to help a little bit, but the breakthrough came when a non-explosive actuator (NEA) was actuated in the jammed bracket. This almost fully fixed the problem, leading the team in charge to decide to fire another NEA, which finally allowed the pin to fully shift and the antenna to fully deploy and lock into place.
Assuming no further issues occur during Juice's long trip through the Solar System, Juice is expected to arrive at Jupiter after four gravity assists in July of 2031. There it will perform multiple science missions until a planned deorbit on Ganymede by late 2035.