There is a lot to be said for replacing certain kinds of jobs with robots. Most people would agree that replacing physical human labor with automation is a good thing. It's especially good to automate the dangerous kinds of labor like some facets of factory work. What about automation in fields that require more mental labor, where physical strain isn't the concern? Is replacing humans really the best course of action? A year ago, a video called Humans Need Not Apply set forth an explanation of how robots will inevitably replace us. But that narrative is a tough sell.
Whether it is even possible depends on the job being automated. It also depends on how far we are able to take technology, and the amount of labor we are willing to offload. Automation has been replacing human workers in assembly and manufacturing industries for years. Even with equipment and upkeep expenses, the tireless nature of robotic workers means dramatically lower overhead for businesses.
Many of the current forms of factory automation are rather dumb. When something goes wrong and their task is compromised, they keep chugging away. That costs time and money. But there are companies out there producing robots that are better on many levels.
May Your Robot Overlords Be Cute and Cuddly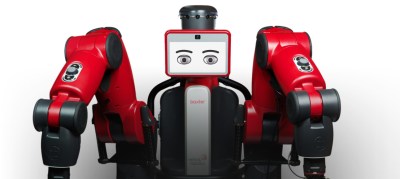 In 2013, Rethink Robotics started filling orders for a new line called Baxter. They are a class of general purpose robot that can be programmed to do many kinds of manual tasks. Baxter bots have vision, and they can learn how to do a job simply by watching. They don't need to be programmed in the traditional sense.
Baxter even has a face – a screen that shows different expressions depending on his state. When he's in the midst of a task, his eyes are cast downward. If something goes wrong, he stops what he's doing. His cartoon face appears sort of shocked, then sad. He goes into safe mode and waits to be fixed.
Continue reading "Robots Are Coming For Our Jobs. Just Not All Of Them." →