[Blackcorvo] wrote in to tell us how he took a cheap "retro" guitar amplifier and rebuilt it with sub-miniature vacuum tubes. The end result is a tiny portable amplifier that not only looks the part, but sounds it to. He's helpfully provided wiring schematics, build images, and even a video of the amplifier doing it's thing.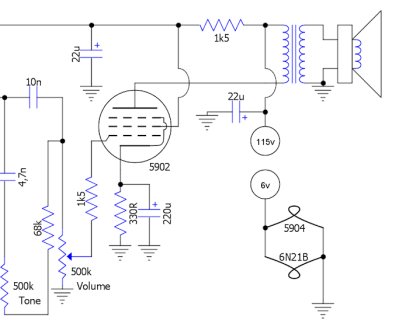 The original Honeytone amplifier goes for about $26, and while it certainly looks old-school, the internals are anything but. [Blackcorvo] is too much of a gentleman to provide "before" pictures of the internals, but we looked it up and let's just say it doesn't exactly scream high quality audio. Reviews online seem to indicate it works about as well as could be expected for an amplifier that costs less than $30, but this is definitely no audiophile gear.
Powering up the miniature vacuum tubes takes a bit of modern support electronics, including a buck converter to provide the high voltage for the tubes as well as a 6V regulator. The plus side is that the new circuit can power the tubes from an input voltage between 12 and 30 volts, meaning the amplifier can still be powered by batteries if you want to take it on the go.
We've seen some fantastic tube amplifier builds over the years, proving that some things never go out of style. If you'd like to learn more about the magic that lets these little tubes of hot pixies make beautiful music, the US Army has you covered.
Continue reading "Tiny Guitar Amp Rebuilt With Tiny Tubes" →