[Stephen Cognetta] is trying to get the total number of things he owns down below 115, and he's always looking for ways to streamline his life.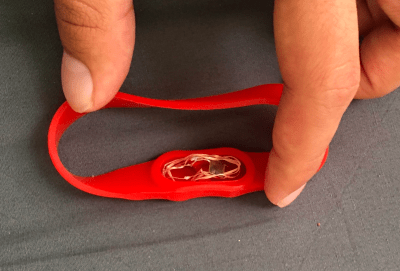 Toward this goal he dissolved his SF Transit Clipper Card in acetone to get at the NFC tag embedded inside. The tag consists of a tiny chip attached to an antenna the size of the card itself. It took about three days (video below the break) for the layers to separate and [Stephen] was able to extricate the tag.
He ended up trying a few different ways of storing the delicate chip and antenna, including a lump of Sugru as well as a waterproof aspirin band, pictured to the right.
One supposes the transit pass idea might save you a little time, but what would really simplify your life would be having a single wearable tag that unlocked a bunch of things. Also it should be noted that, un-coolly, damaging a card violates SF Transit's terms of service…
HaD has covered NFC wearables before, including the phone-unlocking NFC ring as well as the NFC ring box. This NFC-controlled infinity mirror makes great use of the technology.