A recent experiment showed that parrots seem considerably enriched by the ability to video call other parrots. It's important that the activity be done in a healthy and ethical way, so researchers do not recommend bird caretakers immediately slap a spare tablet in front of every bird — but the results are as heartwarming as they are encouraging.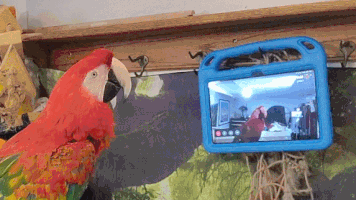 Parrots are intelligent creatures known to require and benefit from intellectual and emotional stimulation, and their eyesight is such that they are able to use a display like a tablet screen much like a human would. They are also social creatures, and that led to researchers designing a pilot study to explore a parrot-to-parrot videoconferencing system.
The three-month study showed that when given the opportunity to initiate and receive video calls, every single parrot in the test group did so and all bird caretakers reported perceived benefits. Birds made friends, seemed highly motivated, and even learned behaviors by watching others.
Curious about the details? The published results (a PDF and two brief videos) covers all the bases. Parrot pals may also remember another time that technology enriched a feathered friend with a motorized buggy complete with beak-compatible joystick for steering.