This past Saturday was the first Mini Maker Faire held in Poughkeepsie, NY. Although it was the first in the area, the event went extremely well having over 60 makers and countless attendees. It was held at the Poughkeepsie Day School and made use of a large percentage of the indoor area.
Ninth graders of the hosting school [Liam], [Johnson] and [Matt] were proudly displaying some of their projects. One of which was a robotic hand controlled by a glove the user wears. Flex sensors sewn into the glove detect how much each finger is bent. That information is read by an Arduino which then commands 5 independent servos to pull string ligaments to bend the fingers of the 3D printed robotic hand. The kids give credit to this Instructable which was the inspiration for their desire to build such a project.
No Maker Faire would be complete without some 3D printers. On hand was a father/son team that built a Mini Kossel. The design is simple and elegant, and apparently assembly is no problem for even the youngest maker. 3D printing guru [Ed] was on hand with his MakerGear M2 to show some practical uses for 3D printers. They are not just for making Yoda heads! [Ed] also gave a presentation on the matter, explaining why 3D printing is important and useful to people, even the common non-techno-nerd consumer.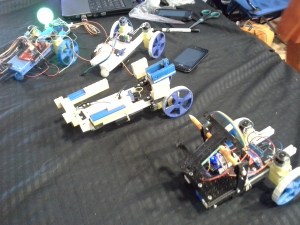 [Nina] and [Steve] were showing off their robotic cars. Most of the frame parts are 3D printable. There is an Arduino and bluetooth module on board that allows a smartphone to connect to the vehicle to allow remote control. The phone app was written with MIT App Inventor and allows the user to control the vehicle by pressing arrow keys, tilting the phone and even by spoken commands. They created this project to help people get started with Arduino or for people looking to move up from Lego Mindstorms. Check out a video of what goes into the assembly of this robotic car here.
Little ones weren't left out of the mix either, they could have jumped around in an inflatable bounce house or, if feeling creative, could build a fort (or whatever) out of Bloxes. These cardboard boxes have interlocking features on all sides so that they can be stuck together to create walls, furniture, a spaceship  or whatever a young mind images. Eco-friendly kids could also help save the planet by making an Invasive Reindeer. These reindeer aren't invasive themselves but are made from an invasive species of tree, Ailanthus. By using these plants as raw material, it not only helps the local ecosystem but also creates a neat little reindeer for mom to display this coming Christmas.
Teachers [Dave] and [Aaron] from FDR High School were displaying a CNC Router that their students had built. The frame may look a little cobbled together but that is what the group loves about it! They made it from pieces and parts that were readily available or lying around the shop (yes, this school still has a shop). For linear bearings and lead screws, they turned to CNC RouterParts who offer a unique bearing system that rides on plate steel. Having seen it first hand, one must say it does work pretty darn well. The system is very rigid, with that large cantilevered router not causing any problems with the machine's movement. The team is using a Gecko G540 motor control and running the machine with LinuxCNC.
Multi-rotors? Yeah, those were there also. There was even an obstacle course for little hand-sized quads to fly though. As an observer, it looked like an extreme challenge and those who made it through certainly deserve kudos. The Mid Hudson Model Masters were present with their RC Airplanes and multi-rotors. They had several RC Simulators set up that anyone could try out and they also gave an outdoor demonstration of their RC aircraft.
Overall, the Poughkeepsie Mini Maker Faire was an awesome event and certainly worth attending. We're looking forward to next year's!