Last summer, [Quinn] made the trip out to KansasFest, the annual Apple II convention in Kansas City, MO. There, she picked up the most modern Apple II system that wasn't an architecturally weird IIGS: she lugged home an Apple IIc+, a weird little machine that looks like an old-school laptop without a screen.
Not content with letting an old computer just sit on a shelf looking pretty, [Quinn] is working on a project called the Teddy Top. 'Teddy' was one of the code names for the Apple IIc, and although add-ons to turn this book-sized computer into something like a laptop existed in the 80s, these solutions have not withstood the test of time. [Quinn] is building her own clamshell addition to her IIc+, and somehow failing at something she's done hundreds of times before.
While the IIc+ has an NTSC composite output, the super-special video add-ons for the IIc+ used a DB15 expansion connector. Here, any add-on could access video sync signals, the a sound signal from the audio circuit, and even a +12V line that could drive loads up to 300 mA. It just so happened the display [Quinn] is using for this project runs at 12V, 200 mA. Everything was great, but as a worthy trustee of this computer's Earthly existence, [Quinn] thought a bit of current limiting should be included in her addon. She designed a circuit around an NPN power transistor, that would allow the display to draw power until the load was around 250mA. After that, the transistor would start dumping excess power as heat. Yes, a fuse would be better. [Quinn] calls this Fail #1. There are thirteen more to go.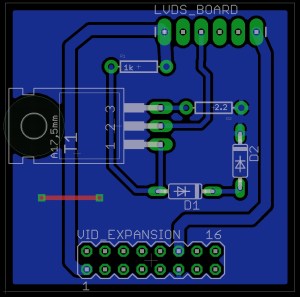 With the circuit working on a breadboard, [Quinn] needed something a little more permanent to stick in her Teddy Top. It's a simple circuit and something that would be a good fit for protoboard, but [Quinn] decided to make a PCB. [Quinn]'s home PCB manufacturing is her specialty, able to put 16 mil traces on a board with 5 mil separation. That's good for a Chinese board house, let alone someone in her kitchen.
The first board neglected to take into consideration how the input header would map to the DB-15 IIc+ expansion port. Another fail.
After so many successes with her PCB process, [Quinn] was apparently getting complacent about the errors that could creep in. The developer didn't work, and trying to be scientific about it, she played with the developer time, UV exposure time, and copper etch time. Everything failed until she realized the developer should be diluted to 10:1. We're up to fail #8 here.
With a PCB properly etched, [Quinn] got to the point where she could see her circuit etched in copper. She drilled the board, began the assembly, and realized the board was a mirror image of what it should be. Correcting this somehow produced another mirror image, and triple checking everything a third time produced another inverted image. Put some text on your copper layer in Eagle, people.
With a working board, it was time to assemble the circuit. While the circuit worked on a breadboard, the copper traces had just enough resistance to throw off the experimentally determined resistor values. While the current limiter circuit would keep everything below 250 mA on the breadboard, the limit on the PCB circuit, with the slight increase in resistance in the copper traces, shot up to 310 mA, above what the IIc+ could provide. That's fail #13.
The final fail, and something [Quinn] should have caught in the breadboard stage, was flipping the collector and emitter on the power transistor. The idea of running video and power through a current limiter was invalid all along.
At this point [Quinn] decided to cut her losses. The LCD board only draws 200mA anyway, and she opted to simply wire it directly to the IIc directly. If the IIc needs protection, a 250mA fuse will be thrown in. Simple enough, and not as infuriating.
With the fixed circuit, the prototype for the Teddy Top works perfectly: a screen, powered by the expansion port on the IIc, is a working display. No extra wires necessary. At the very least, it's an exercise in minimalism: don't do what you don't need to do. If you decide against that little bit of advice, at least you'll learn something in the process.
---
Fail of the Week is a Hackaday column which runs every Thursday. Help keep the fun rolling by writing about your past failures and sending us a link to the story — or sending in links to fail write ups you find in your Internet travels.