Mechanical watch enthusiasts see the Apple watch as a threat to the traditional gear train. It does not tick, requires frequent re-charging, and it's certainly not the most attractive of watches. But it can direct you to the local coffee shop, allow you to communicate with friends anywhere in the world, get you onto an airplane after the most awkward of arm gestures, and keep you apprised of the latest NCAA basketball scores. Is the advent of the smart watch the end to the mechanical watch?

It Has no Heartbeat. It has no Soul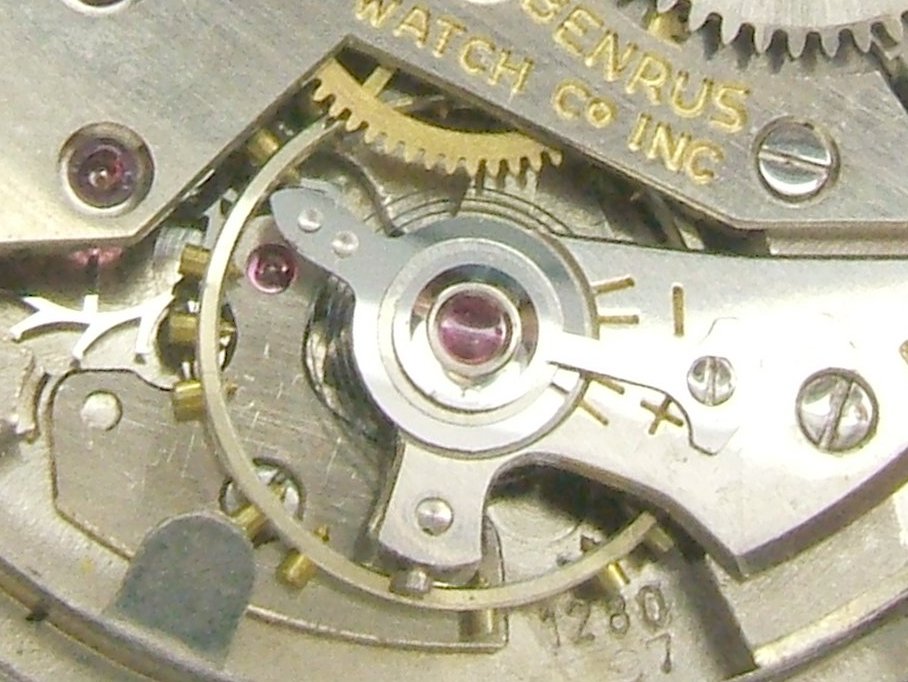 The best part about a mechanical watch is that it is easy to take a look under the hood and observe all of the action. By contrast, there's nothing much to see inside the Apple watch (unless you have your own scanning electron microscope).
Mechanical watches have a beating heart: the balance wheel. It is comforting to listen to the ticking from the balance wheel knowing that each tick moves a fairly complex gear train. Repairing and servicing these watches is a hobby and profession all its own. The Apple watch does not tick but I'm sure someone will write an app for that.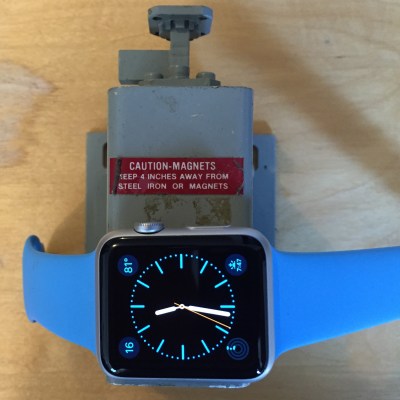 One thing the Apple watch does have in common with mechanical watches is the need to be re-powered on a daily basis. This watch makes it one day, tops, about half as long as an old mechanical wrist or pocket watch between windings.
Accurate; Impervious to Magnets
The Type A-11 wrist watch flew over Berlin during the second world war and could be synchronized by 'hacking' the movement (stopping the balance wheel) when you set the time. The accuracy was key to coordinating these missions.
The Apple watch is synced to the US Atomic Clock via its host iPhone's GPS clock, so it will always tell the perfect time. It does not get more accurate than that.
For those of us who work with magnets you will be happy to know that unlike a mechanical watch the Apple watch will not stop ticking or become un-calibrated when placed directly on a large magnet.
How Do You Service a Smartwatch?
Servicing modern electronic devices is irrelevant. Support of software will likely be the limiting factor to its useful life. By contrast, 100 years from now you will be able to service almost any mechanical watch or clock. The concept of throwing away a watch is unthinkable for mechanical watch enthusiasts. It's an interesting thought experiment to consider the life of your cellphone and apply it to the life of your watch. By all accounts, the Apple watch should be much more versatile than its mechanical forebearers, but will it face the paradox of having a much shorter lifespan as technology marches along?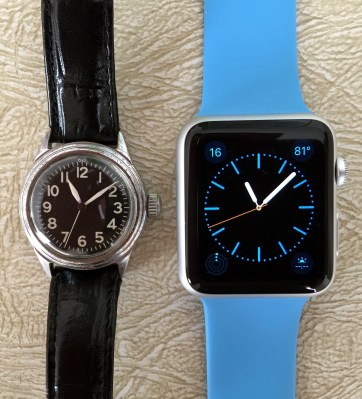 Like many engineers I'm not well versed in high fashion. To me this watch looks a lot like an old CRT television set from the 70's. That's cool, I like old things from the 1970's. Perhaps the kitsch of antiquity will carry this forward into the next decade, assuming that battery can still hold a charge.
Will Apple Watch Win on Features?
For those of us with children it is unlikely you are spending much time at the gym. This is a great example of where Apple watch comes in handy, its native ability to count calories burned and plot it vs. time provides excellent encouragement to move for someone who is data-driven. So far I've lost 10 lbs.
The way the Apple Watch functions is fully configurable. My Waltham model 1893 is an S18 pocket watch where the ticking can be annoyingly loud. That's the heartbeat I mentioned earlier, but it can get in your brain like The Tell Tale Heart. This is the way watch functions and you either live with it or you don't.
You can find many articles about what a nuisance the Apple watch can become — but both the watch's behavior and your own are configurable. I've found it to be not at all annoying and I only wear it during the work week where its event reminders are really useful if you're hands on in the lab and not sitting in front of a desk all day.
The Two Can Coexist
The Apple watch is an excellent M-F business watch, enabling real-time emails, and convenient meeting reminders for those of us who are in the lab and not at the desk. But on the weekends I relax by wearing something less engaging from a simpler time. Mechanical watches are a pinnacle of engineering. The Apple Watch has just started that climb which will hopefully lead to a new high in modern technology.
About the Author: Gregory L. Charvat