Bluetooth is one of the mainstays of the mobile gadget world, allowing mobile devices to communicate easily over short distances. It's how your wireless headset talks to your cell phone without the complexity and power requirements of WIFi. In particular, the Bluetooth Low Energy (BLE) component is interesting for those who build portable gadgets, because it requires a very small amount of power.
What Is Bluetooth LE?
Bluetooth LE, also known as Bluetooth Smart, is part of the fourth version of the Bluetooth standard. Finalized in 2010, Bluetooth 4.0 has been updated several times since, and the current version is 4.2, released in July of 2015. This version creates three different classes of device: Bluetooth, Bluetooth Smart Ready and Bluetooth Smart. The basic idea is that Bluetooth Smart indicates a device such as a pedometer or heart monitor that can only send and receive Bluetooth LE signals, while a Smart Ready device can handle LE and standard Bluetooth signals. A standard Bluetooth 4.2 device (such as a cell phone or USB dongle) can also send and receive Bluetooth LE signals.
At least, that's the theory. Because Bluetooth has evolved over the years, actual compatibility is often difficult to determine. This isn't helped by somewhat patchy support for Bluetooth in the operating systems of computers and cell phones: Bluetooth LE support for Android, for instance, was not included until version 4.3 (JellyBean), so there are still many Android devices out there that don't support it. Apple has been more proactive: Bluetooth LE support was included in iOS version 6 and OSX version 10.9.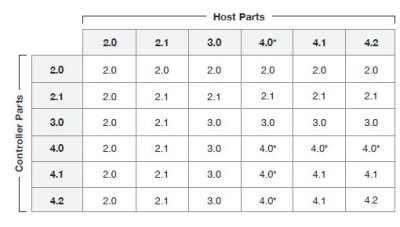 The purpose of Bluetooth LE is to open the standard up to a new class of devices: those that send small amounts of data infrequently, and run off of small batteries. Bluetooth LE runs on the same frequency band as standard Bluetooth: the 2.4GHz ISM (industrial, scientific and medical) band that does not require a licence to use. The ISM band is divided into 40 channels, and LE devices hop between these channels to avoid interference. To keep the power requirements down, Bluetooth LE has lower transmission power (between 0.01 and 10mW) than standard Bluetooth, which allows for power of up to 100mW for class 1 devices, and 1mW for class 3. Data is sent in the same way, (using gaussian frequency shift keying), but the speed of data is lower: a maximum of 1 Megabit per second (Mb/s), against the 24MB/s maximum of standard Bluetooth. Bluetooth LE devices can also switch between standby and active modes much quicker than standard ones, saving power by allowing small bursts of data to be sent.
Bluetooth classifies devices by their purpose, creating a number of profiles for things like headsets, headphones and human interface devices such as mice and keyboards. Bluetooth LE adds a new set of these profiles, called Generic Attribute (GATT) profiles. These include profiles for devices such as blood pressure monitors, and more generic profiles for devices like key fobs (the proximity profile). Most Bluetooth LE devices support a number of these profiles, with the specific profiles that are enabled being controlled by the firmware on the device.
Bluetooth LE devices use very little power, and are designed to run off batteries. The Nordic Semiconductor NRF52 series of chips, for instance, can run on a voltage of between 1.7 and 3.6V and draws just 1.2μA when the system is in idle mode. That is low enough that it could run for at least a year on a coin battery.
Bluetooth LE is definitely an interesting protocol for the hardware hacker, but it has its critics. Mike Ryan has demonstrated numerous security problems with the standard, breaking the encryption that the protocol uses and demonstrating how it is possible to remotely crash an Android phone using a Bluetooth radio.
How To Use Bluetooth LE
The easiest way to start working with Bluetooth LE is to get a development kit. These are widely available from the companies that make Bluetooth chips, such as Nordic Semiconductor, Texas Instruments and CSR. Adafruit also offers a neat breakout board based on a Nordic Semiconductor radio. For making standalone devices, the Lightblue Bean is a good place to start, as it combines a Bluetooth LE radio with an Arduino for easy programming and control.