Heathkit, the storied purveyor of high-quality DIY electronics kits that inspired a generation of enthusiasts and launched the careers of many engineers, has returned from the dead. We think. At least it seems that way from this build log by [Spritle], an early adopter of the rebooted company's first offering. But if [Spritle]'s experience is any indication, Heathkit has a long way to go to recreating its glory days.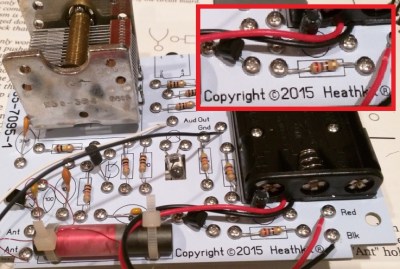 The Explorer AM radio kit, currently Heathkit's sole complete kit offering – they do offer a few upgrade and repair boards for earlier Heathkit products – is far from the classic Heathkit experience, at least to those of us who actually assembled one of the company's myriad offerings back in the day. The most glaring departure from the old days: the Explorer kit does not require soldering. The PCB is drilled with oversized holes for machine screws and nuts, and component leads are simply wound around the screws and torqued down. A handy method, perhaps, and accessible to electronics newbies, but hardly suitable for delicate component leads. Indeed, [Spritle] reports several over-torqued screws pinching off component leads almost to the point of not having enough lead left to make a connection. Imagine the frustration of destroying a component and not being able to complete the build.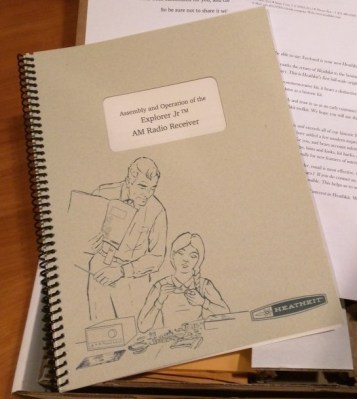 [Spritle] also reports some disturbing errors with the manual for this kit. Heathkit was famed for the quality of their assembly instructions, and their manuals were the "holy of holies" in your project. Nothing else was to be touched before you read the manual, which guided you through the assembly process in exquisite detail. But this manual leaves out instructions for installing one resistor, and gets the color code wrong for another one. Having parts left over on a classic Heathkit project would be an indication that you did something very wrong; a builder not as observant as [Spritle] might have had a very confusing time trying to trace that error. And expecting an electronics newbie, which seems to be the target market for this kit, to catch a color code error is hard to take. Yes, attention to detail is an important skill for the budding electronics hobbyist, but why throw curveballs before the hitter knows how to hold the bat?
Personally, I don't recall any non-solder kits in the Heathkit catalogs of yore; in fact I recall the instruction manuals having extensive soldering lessons in case your iron handling skills were not quite up to snuff. My first kit, an SW-717 shortwave receiver, was recommended by my neighbor, a ham trying to get my 11-year-old self into amateur radio. He drilled me on soldering skills for hours before we ever broke open the parts envelopes, and it paid off, both for that build and in the long run with a life skill that I'm still proud of to this day.
Looking back on my first build, it seems like the most valuable part of it was that mentorship. Knowing that I had someone to guide me and answer my questions was incredibly helpful. I'd love to be on the other side of that mentoring relationship today with my kids, and the Heathkit of old would be a fantastic way to do it. I'd pay a lot of money to bust open a new Heathkit project with my kids. But a no-solder kit? What's the point?
I'm not saying that there's no place for a no-solder experience as a "gateway drug" to more complicated kits. But the choice of this kit as the first offering is puzzling; it begs the question of where Heathkit sees the company going from here. The price point is baffling too – $150USD for a battery-powered AM radio with no speaker. Yes, it looks nice, but I'm not willing to pay a premium for that.
Where Heathkit goes from here is anybody's guess. Our own [Brian Benchoff] has been keeping close tabs on the on again, off again Heathkit reboot, and earlier announcements of a Heathkit return that included a reddit AMA and a bizarre geocache promotion. We really hope that Heathkit makes a comeback, but for now, all we can do is watch and wait. And practice soldering with the kids.