What's not to love about a hackathon? The junk food and caffeine that fuel the weekend; the highs that come with success and the lows that come when the blue smoke is released; the desperate search for inspiration as the clock ticks away; nerve-wracking pitches to the judges, hoping against hope that everything works in the demo. Hackathons are the contact sport of the hacker world, bringing in top competitors and eager upstarts, and when done well you just might attract interested "civilians" and other newbies that will catch the hacking bug from what they witness.
Such was the scene at the Tech Valley Center of Gravity in Troy, NY over the last weekend of January. New for 2016, the CoG is hosting a series of four hardware hackathons this year, each with a different theme. This event's theme was "Internet of Things", and the call went out to any and all to come compete for bragging rights and over $1,000 in prizes. Incentives to compete included some big name corporate sponsors, like AT&T, and judging and mentoring provided by the likes of SparkFun's [Jeff Branson]. There was also a steady stream of food and drink, saturation coverage by local media outlets, and your humble Hackaday writer and his son, who made the trip up to Troy with a small passel of Hackaday swag and a curiosity to see how the CoG has fared since our last visit at the grand opening of their glorious new home. We were not disappointed.
Hacking Under Glass
The first thing that struck me when I toured the TVCoG last year was the space itself. Housed in an old downtown department store that has been lovingly restored to something of its former glory, the CoG is unique among the hackerspaces that I've seen reviewed on Hackaday and visited in person. Most hackerspaces are isolated places, tucked into a corner at some old factory or warehouse. Indeed, the CoG's former home was a defunct McDonald's in the basement of a parking garage and looked much more like the hackerspaces I've seen. But the new space is in the very heart of a thriving downtown area, with hacking taking place in an enormous, brightly lit room behind huge windows at street level.
Such above-ground working conditions might disquiet a few hackers, but I could instantly see the benefit to the arrangement: people just walk in off the street and look around to see what all the hubbub is. There's immense value in that connection to the community, both in terms of recruiting new dues-paying members, but also in "normalizing" the public perception of hacking. When people see what hacking really is, it changes things for them, and even if it doesn't inspire them to pick up a soldering iron themselves, at least they carry the impression that what we do is mostly harmless. Kudos to the CoG for capitalizing on this location and integrating itself into the community.
What if They Held a Hackathon and No One Showed Up?
CoG did well with their PR efforts in the run-up to the hackathon. [Erica Iannotti], the CoG's board chairperson, headed the effort to get the Hackathon noticed, which included reaching out to Hackaday early in the run-up to the event. I'll gladly give Hackaday a pat on the back here; our story about the hackathon was cited by multiple attendees as how they found out about the event. In fact, the team that eventually won two prizes for their efforts came up from the New York City area after seeing our post.
Local media coverage was key to the event's success as well. Not only were news outfits invited in during the hackathon, but there was good coverage beforehand too. The local morning TV news show set up a remote the day before to do cutaways every half hour, and the call went out to CoG members to be at the benches working on stuff for the cameras. The effort seems to have paid off in local buzz for the event – multiple newspaper stories covered the hackathon. If you're planning a hackathon at your space, there's a lot to learn here about how to do it right.
Thirteen Teams, Five Awards
Thirteen teams formed up for the competition. Some of these were ad hoc teams where people just sort of showed up and pulled other folks in to work on ideas that were only half-baked at the start of the event. Some teams had a good idea of what they were going to work on and even had a bit of kit put together to start. Unfortunately, I wasn't able to come to the kickoff of the event; I was only there to witness the results and see the awards ceremony. But I got a chance to talk to several teams, and I was impressed by quite a few, most of which went on to win a prize in one or more categories.
The big winner of the night was Flame Warden, which won the award for "Best Smart Building Solution" and "Most Likely to be Commercially Successful". Inspired by the recent tragic carbon monoxide deaths of a mother and child in a snowbound car, Flame Warden looks to help avert similar poisonings in the aftermath of structure fires. Basically an amped-up smoke detector with a suite of sensors, Flame Warden would watch a room for signs of fire – CO levels, smoke particles, and image analysis of visible flames. It also monitors room occupancy and would be able to alert firefighters of the presence of someone who might need rescuing through a smartphone app. It was quite a polished project for a 36-hour build.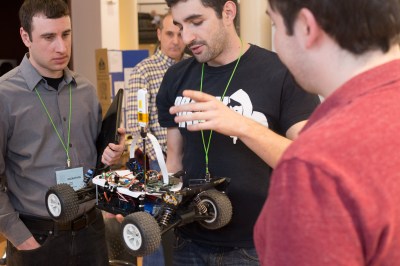 Another of my favorites and winner of the "Best Smart Transportation Solution" was the 4G Earth Rover by the one-man team of [Drew Pilcher]. Envisioned as a mobile exploration platform, the Earth Rover ran into some real-world limitations when the 4G connection to the RC car-mounted camera proved laggy. [Drew] managed to work out most of the bugs and run the rover on top of an abandoned parking garage two blocks away.
Other awards were the "Best Smart Healthcare Solution", awarded to [Chris] and [Robert] for their Photon-based WiFi-enabled air quality monitoring system; "Best Smart City Solution" for [Amanda], [Arsal], [Htoo] and [Gab] for their "Noisy or Nice" street noise monitoring device; and the "People's Choice" award to [Robert] for "A Better Mousetrap" that texts you whenever a mouse is captured by a live trap. I liked that one because it reminded me of a small-scale version of the feral cat trap from the 2015 Hackaday Prize.
Photo credit for all gallery photos: [Ethan Seeley]
This was a great event, and I think [Jeff Branson] really nailed it when he said, "I've seen bigger hackathons but not better." Congratulations to all the participants, the winners, and to the CoG for pulling off a win with their first attempt. Be sure to make plans for the next hackathon, April 16 and 17, with a theme of "Virtual and Augmented Reality." If it's anything like this one, it'll be a blast, and you'll be well fed.