Hacking for the Raspberry Pi Zero is a tricky proposition. Whatever you do, you're working with a nominal five dollar board, so your hacks can't be too highfalutin. For instance, a decent PS/2 to USB adapter will cost you as much as the Zero did, if not more. But if you just need to drive your Pi Zero from your old Model M (we hear you!) you've got to do it on the cheap.
So when prolific Pi hacker [mincepi] set out to build a PS/2 adapter, some corners were cut. PS/2 is a clocked data protocol, but the good news is that the clock doesn't start and stop all the time as in I2C or SPI. This means that if you poll the data line at just the right frequency, at least in principle you'll be able to ignore the clock.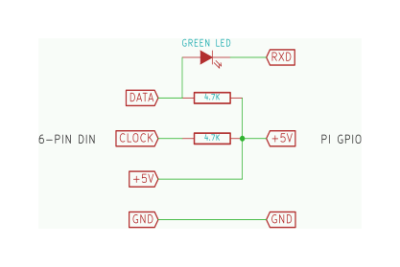 So that's what [mincepi] did. As you can see in the schematic and the banner image, there's nothing to it. Two resistors provide the pullup voltage for the clock and data lines. And here's a gem: a green LED with a drop voltage of about 2 V converts the 5 V data line down to something that the Pi Zero's 3.3 V won't get fried with. Cute, and very much in keeping with the spirit of the hack. You might be tempted to scrounge up a 3.3 V zener diode from somewhere just to be on the safe side, but remember, it's a five dollar computer you're protecting.
The last piece is a custom kernel module for the Pi that polls the PS/2 data line at just the right frequency. If you're not a Linux person and "compiling a kernel module" sounds scary, [mincepi] has even put together a nice guide for the Raspbian distribution that he's using. It should work with minor tweaks for any other distro.
We said [mincepi] is a prolific Pi hacker and here's the proof: we've covered his quick-and-dirty VGA output hack and a scheme to get analog sound input into the Pi Zero just in the last couple of weeks. Hack on!