Let's face it — Android wasn't what most of us had in mind when we imagined having Linux running on our phones. While there's a (relatively) familiar kernel hiding at the core of Google's mobile operating system, the rest of the environment is alien enough that you can't run Linux software on it without jumping through some hoops. While that's fine for most folks, there remains a sizable group of users who still dream of a mobile device that can run a full Linux operating system without any compromises.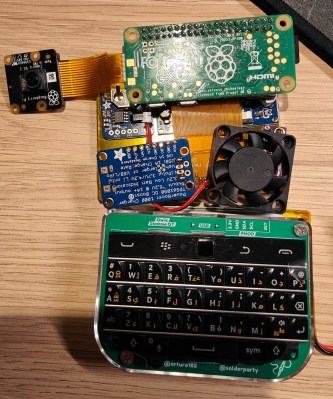 Judging by the work put into the Blackberry Pi, we're willing to bet that [IMBalENce] falls into that camp. The custom handheld combines the Raspberry Pi Zero, a 320×240 LCD, and the BBQ20KBD keyboard from Solder Party with a 2500 mAh LiPo pouch cell and associated charging circuitry. Optionally, it also supports modules such as the Raspberry Pi Camera, a Real-Time-Clock, a ADS1015 ADC to read the battery voltage, and even a USB hub — although you can't have all the goodies installed at once as it draws too much current.
Everything is packed into a 3D printed case that looks roughly like an original DMG-01 Game Boy if somebody replaced the bottom half with a tiny keyboard. We appreciate the ZX Spectrum theme, even if it's not immediately clear how it relates to the project other than being an excuse to play around with multi-color printing. [IMBalENce] says the final product works quite well, though the relatively limited keys on the BlackBerry keyboard does make it tricky to use the device for writing code.
Interested in mobile Linux, but not trying to build the hardware yourself? We recently took a look at the SQFMI Beepy, which is fairly similar in terms of hardware, but very much in need of some talented penguin wranglers who are willing to come in and work on the software and documentation. Think you're up for the challenge?