However you sell your kits online, you'll have to find a means of shipping them to the customer. For an online operation this unseen part of the offering is more important than any other when it comes to customer satisfaction, yet so many large players get it so wrong.
This is the final article in a series looking on the process of creating and selling a commercial kit from a personal electronic project (read all the posts in this series). We've looked at the market, assembling the kit and its instructions, and how to set up an online sales channel. In this part we'll look at what happens when you've made the sale, how to get it safely to the customer and how to keep the customer happy after the sale by offering support for your products. We'll also give a nod to marketing your site, ensuring a fresh supply of customers.
Packaging and Delivery
How often have we all ordered something online only to find that the useless white-truck courier the vendor uses hires drivers who can't be bothered to find the simplest of addresses, so we never see the product? The cheapest bidder is always the best, right? As a small supplier it is crucial that your customers come away satisfied and receive their kits, because a non-delivery costs you more proportionally than it does one of the big boys. Pick a courier not on price but on service, and make sure you allow enough margin for that in your shipping costs.
Make it a selling point that you use a tracked and signed for courier, and you will gain some customers by that alone. Often Royal Mail, USPS, Canada Post or whatever the equivalent is in your part of the world makes the best choice, because they possess the unique advantage of postal staff who really know the patch they are delivering on.
The final piece in the puzzle of getting the kits to your customers comes from the packaging. Whatever you use has to be capable of being stuffed to bursting point with your products and sent to the other side of the world without either rupturing or damaging the kits inside. The same local bulk packaging supplier you would have used earlier for your kit packaging should be able to help you with mail packaging for a much better price than you would pay from a retail source. Yet again, spend a while in their showroom trying your kits in the different options, even send yourself a test package or two, and specify upwards rather than downwards.
For a small kit in a plastic bag like our 555 LED flasher a mid-range padded envelope is fine, even when wrapped in an invoice for mailing it's not heavy or sharp so it won't either puncture the envelope or damage the kit. Whatever you go for, ensure that it's adequately covered in your postage and packing charges for the weight it is likely to carry to all regions of the globe you expect to mail it to.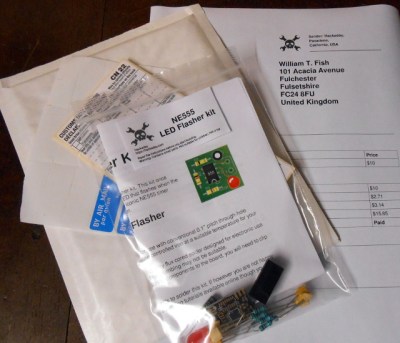 When you have an order ready to go, ensure you have all the steps in packing an order written down as a checklist. Capture the payment, print an invoice on label stationery, print another for the file, gather the kits, check and pack the kits, stick the label on the envelope, fold the invoice and pack it in the envelope, do a final check of everything and then seal the envelope. It might seem odd to have such an obvious list, but it's amazing how easy it is to forget something, for example to find the invoice still on the table in front of you when you've sealed the envelope. It's crucial that your customers receive everything they should in the envelope, so a list will help you avoid mistakes. In particular the stage of checking the kits is important, do a visual check of each kit before you pack it to ensure all its components are present.
Now to Become a Marketing Genius
Of course, thinking that merely having an online shop will guarantee you sales is likely to disappoint you. That's such a 1998 business model!  Your customers will have to find you somehow, and you are going to have to become a marketing genius to get it in front of them. Fortunately in this endeavour you have an advantage. If you are the kind of person who is a Hackaday reader then chances are you are part of the same community as your customers, so your social networks are also their social networks.
Become an active and useful person to know on the relevant forums, Twitter, and Facebook groups. Don't spam them with your products but ensure that the fact you make them is in all your profiles. Share the interesting and relevant parts of your work — interesting manufacturing practices, neat new parts, test rigs, packaging/shipping successes and fails that show you've worked it out, and the awesome things you're doing with the kit.
Keep at it and slowly word will get around that you have these kits for sale, and you'll get a few orders. They'll sometimes come in a rush and you'll think you're made, then you'll have a month with only a couple of orders and you'll wonder what's happened. Eventually though you'll have word of mouth sales and a few buyers coming back for more, and it will pick up from there.
Support Your Community
Once you have sent out your kits to customers, the tracking service tells you they have been delivered, and then… nothing. You have to assume that the customers you never hear from have happily built your kits and everything went well. Congratulations, all that work with the instructions paid off.  Even the people who have problems will be more likely to come back to you with questions than to give you grief, and when that happens you should have a support strategy in the wings. If you have a reliable channel through which you can be contacted for support (maybe a Google group, Facebook group or similar) and you answer all support queries courteously and as factually as you can, then you should in time pick up a reputation for delivering a good service when things go wrong. Go the extra mile, because you will not only learn things that may allow you to improve your kits, you will also stand a good chance of enhancing your kit business on the back of it.
If you've made it this far through a six-article description of how to set up a small kit business from your electronic projects, then you should be well prepared to try it yourself. We look forward to seeing what you come up with!