We're putting in a parts order at the end of the week, yet we don't have a specific project in mind. Trying to wrap your noggin' around a bill of materials to build anything is tough, but that's the gist of stocking components for a hackathon.
So we put it to you: what components can't you live without when you roll your sleeves up for some good old fashioned hardware hacking?
What Can You Build in Two Days?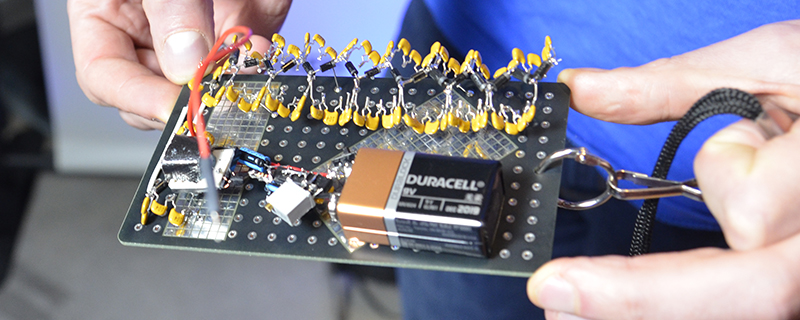 This parts order is for the badge hacking at this year's SuperCon. What we saw last year was amazing considering the parts we had available. What you see above is the back of the conference badge with a lot of caps and diodes added to it. It's a voltage multiplier that [Sprite_TM] built onto his badge to get the 9V input up to a 1000V output.
So diodes and caps, check. They'll be on the order. But we want to know what you would add to a parts order where anything is possible? Let us know in the comments below.
Unlock Beast Mode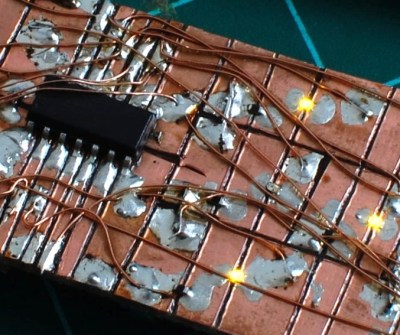 Part of the fun last year was starting from a badge that had no circuitry built onto it at all. [Brian Benchoff] joked in his coverage of the hacking that this year's badge would just be a piece of copper clad FR4 — a great idea and challenge accepted. In addition to the normal badge, for those willing to test their mettle, we want you to go for Beast Mode. We'll have copper clad (single and double-sided) and protoboard on hand.
We're looking for Manhattan style, dead bug, and any other elegant, interesting, or hacky method of rapid prototyping. Bring along your own pre-spun or home-etched boards — if they're not already populated you can do that in the badge hacking area. If you want to learn the awesome X-Acto knife method of carving up copper clad, Zach Fredin will be helping out in the badge hacking area. You'll also find Voja Antonic, Paul Stoffregen, and others hanging out there too.
But What About the Badge?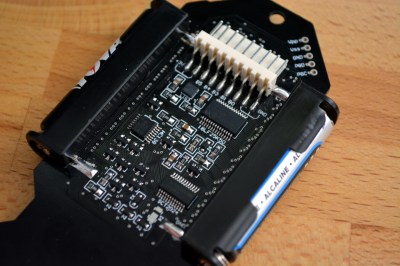 Yes, there is a hardware badge and it's a doozy this year. Voja Antonic designed it and published a great explanation last week. It's based around a PIC18LF25K50 and features an LED Matrix and user inputs. This will be a lot of fun for the firmware hackers, but why not get in on the hardware hacking action while you're at it?
The back of the badge has a 9-bin breakout header (2x 3V, 2x Gnd, 5x GPIO). This pin header is 0.1″ pitch so you can design in advance for any add-on circuits you might want to build. We'll also have connectors on hand to use in your hacks.
Last year Paul Stoffregen's Teensy audio workshop was hugely popular and one of the most interesting badge hacks added a Teensy, audio board, and LCD to the mix to create a spectrum analyzer with waterfall display. I'm sure we'll see some hacks that reach that level this year. But it's a welcoming and jovial environment; even if you never blinked an LED there will be throngs of people waiting to cheer your accomplishment in the name of getting everyone in the world excited about hardware.
Seriously Though, What Components Should We Order?
Tools are going to be no problem this year since we have the Supplyframe Design Lab at our disposal. But we really are putting in a parts order this week and need your advice. We'll have the usual suspects: pin headers, shift registers, voltage regulators, level converters, 7400 series logic and 555 timers, extra battery holders, passives, etc.
Even if you're not in on the hacking, let us know what you can't live without. What's your analog hacking wishlist? What type of sensor breakouts would you like to see people playing with? Sound off in the comments below.