Seems like all the buzz about autonomous vehicles these days centers around self-driving cars. Hands-free transportation certainly has its appeal – being able to whistle up a ride with a smartphone app and converting commute time to Netflix binge time is an alluring idea. But is autonomous personal transportation really the killer app that everyone seems to think it is? Wouldn't we get more bang for the buck by automating something a little more mundane and a lot more important? What about automating the shipping of freight?
Look around the next time you're not being driven to work by a robot and you're sure to notice a heck of a lot of trucks on the road. From small panel trucks making local deliveries to long-haul tractor trailers working cross-country routes, the roads are lousy with trucks. And behind the wheel of each truck is a human driver (or two, in the case of team-driven long-haul rigs). The drivers are the weak point in this system, and the big reason I think self-driving trucks will be commonplace long before we see massive market penetration of self-driving cars.
Any business owner will tell you that his or her biggest problems come from dealing with employees. Humans are, well, human. The get sick, they get bored, they get greedy and steal from you, they get in a snit and walk out on you. Even if they are model employees, eventually they wear out and retire, needing replacement. And until that day comes, you have to pay the employee. The more employees, the more problems, the more time wasted on non-productive stuff, and the more money that flies out the door. The fact that almost every one of those truck drivers is someone's employee, and therefore someone's problem, makes them a ripe target for being automated out of a job.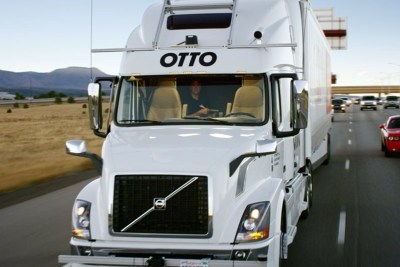 Think it can't happen? It already is. Uber's freight division recently acquired Otto, a truck automation startup founded by ex-Google, Apple, and Tesla talent. An Otto-equipped truck recently completed a 120-mile autonomous beer delivery in Colorado with the driver cooling his heels in the sleeper compartment. He was still needed to start and end the run, but the day can't be far behind when even those tasks will be automated away and the driver can be replaced entirely.
The point is, as sexy as it might be to have a self-driving car, there's nowhere near the economic incentive to replace you behind the wheel of your daily driver as there is to replace the driver of a long-haul or local delivery truck. You'd be paying for the privilege of easing your commute, while thousands of trucking companies stand to save billions of dollars each year by replacing carbon-based drivers with silicon. That alone makes it far more likely that the trucks will be automated long before cars.
And it won't just be trucks. My guess is that anything that plies a more or less fixed route with bulk goods is ripe for having the humans taken out of the loop. Shipping seems like a perfect target. Most modern container ships are already highly automated, at least in terms of controlling and navigating the ship. It once took hundreds of seamen to man a vessel; automation has already reduced that to a dozen or so, and it's easy to imagine a completely autonomous container ship someday. A small step in that direction is the aXatlantic project, which seeks to build a drone ship capable of autonomously crossing the Atlantic.
Are there obstacles to the automation of the world's freight ways? Of course, and as usual, they're mostly carbon-based. The drivers, pilots, sailors and engineers that currently run the system are all likely to resist the trend, and most of them are represented by labor unions that will no doubt get into the process politically. The buggy-whip makers were once a powerful lobby too, but you don't see many around these days. The laws of economics are hard to resist, at least in the long term, and my guess is that a driverless truck barrelling down the highway or working a local parcel delivery route will be commonplace long before self-driving cars no longer raise an eyebrow.