For the longest time now, I've wanted to build a real, proper radio telescope. To me, this means a large parabolic reflector, a feed horn made of brass sheet, coat hanger wire, and at least for the initial experiments, an RTL-SDR dongle. I've done the calculations, looked at old C-band antennas on Craigslist, and even designed a mount or two that would make pointing the dish possible. I've done enough planning to know the results wouldn't be great. After months of work, the best I could ever hope for is a very low-resolution image of the galactic plane. If I get lucky, there might be a bright spot corresponding to Sagittarius A.
There are better ways to build a radio telescope in your back yard, but the thought of having a gigantic parabolic dish out back, peering into the heavens, has stuck with me. I've even designed a dish that can be taken apart easily and transported because building your own dish is far cooler than buying a West Virginia state flower from a guy on Craigslist.
Recently, I was asked to come up with a futuristic, space-ey prop for an upcoming video. My custom-built, easily transportable parabolic antenna immediately sprang to mind. The idea of a three-meter diameter parabolic dish was rejected for something a little more practical and a little less expensive, but I did go so far as to do a few more calculations, open up a CAD program, and start work on the actual design. As a test, I decided to 3D print a small model of this dish. In creating this model, I inadvertently created the perfect WiFi antenna for an ESP8266 module using nothing but 3D printed parts, a bit of epoxy, and duct tape.
Designing A Dish
The design of a parabolic WiFi antenna isn't that much different from the design of an optical telescope. In fact, nothing is different save for the frequency of light we're looking at. A rule of thumb for optics is that a perfect reflector needs to have a surface finish within 1/10th to 1/20th of the wavelength of light the reflector will be used at. For a visible light telescope at a wavelength of 400 nanometers, this means a parabolic mirror needs to have a surface finish that is perfect to within 40 nanometers. That's the size of viruses, but it's still something that can be made with cerium oxide, pitch, and a second block of glass.
WiFi, on the other hand, has a wavelength of 12.5 centimeters, and the surface of a parabolic WiFi antenna needs to be perfect within only a millimeter or two. This is easily attainable with a 3D printer.
To design this dish, I found some old freeware on the Internet that takes the relevant measurements of a dish — focal length and diameter — and spits out XY coordinates of a parabolic arc. These coordinates can then be imported into the CAD software of your choice, extruded into a 3D shape, and exported as a 3D printable object.
It's Hexagonal, and Therefore Cool
This project was originally just a test to see how I could build a large, easily transportable parabolic reflector. This demands a few design considerations. First, the dish should be composed of segments, and these segments should fit in my car. I decided to build a hexagon-shaped dish, with each sixth of the hexagon composed of a left half and a right half. This makes the individual parts of the dish sufficiently small to fit in my car, and gives me the added bonus of only having to create two masters to pull a mold off of.
Making the dish a hexagon does have one slight drawback: I'm missing 17% of the dish. A hexagon inscribed in a circle has an area 83% as large as the circle itself. However, having straight lines on the outside of the dish simplifies any reinforcement or bracing I would need to build. In any event, this is only an experiment.
Another design consideration is how to attach the antenna to a mount. Ideally, you'd want to mount it near the center of gravity. In the case of something round, this is the center. That's not a problem for a parabolic dish; we don't need the center of the dish anyway because it will always be shadowed by the feed horn. Cut out the center bits of the dish, and we have a nice hexagon-shaped hole to serve as a mounting point.
A few quick cuts in Fusion 360, export to STL, and throw it in Cura. I ended up with this:
This is 1/12th of a dish, with another 1/12th of the dish copied and mirrored along the Y axis. No, it didn't take two days to print a sixth of the dish; I bumped up the layer height and cut down the infill, but it still took about 10 hours to print these two parts. In total, that's sixty hours of print time and two spools of filament for this experimental dish.
In addition to the 3D printed dish segments, there are a few more parts I need to turn this into a proper WiFi dish. I need some way to mount this thing to a camera tripod, and something to hold an ESP8266 at the focal point of the dish. Here is what I came up with:
The hexagonal piece simply slips into the center of the dish. On the back, there's a 1/4-20 threaded insert for a camera tripod. On the front, there's a hole designed for a 6mm dowel, or in my case, a plastic knitting needle cut down to size. I designed two mounts for ESP8266 modules. The first was a simple mount for the very popular and very inexpensive ESP-01 module. The second mount fit the Adafruit Feather Huzzah board, an ESP breakout board with a few neat features including a USB to serial adapter and a JST connector for a battery.
It's Not Duct Tape, It's Tape You Use On Ducts.
With the parts printed and everything assembled, this experimental dish still had a problem. It was relatively transparent to radio. While I could have used a metallic filament for this build, I really didn't want to spend that much. Instead, I found a better solution: duct tape.
In the United States, the words "duct tape" has several meanings. The most common, by far, is a cloth-backed tape coated in plastic, a close cousin to gaff tape. This duct tape or 'duck tape' might look metallic, but it's not. It's also something you should never use on duct work. Don't put this stuff on an HVAC system.
Instead of the cloth-backed "duct tape", I'm using the stuff you should use on duct work. This "duct tape" is effectively thick aluminium foil with a pressure-sensitive adhesive on one side. It's radio-reflective, strong, and thick enough so that it can be burnished smooth. I'm using duct tape to reflect radio waves, and in doing so created the best clickbait headline ever.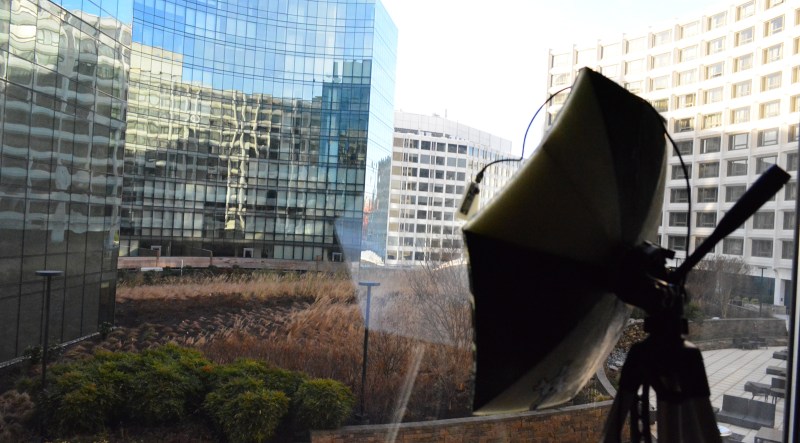 Testing the Dish Out
I live in a van down by the river in the middle of the woods, so testing the range of a WiFi connection or the gain of an antenna isn't easy. Ideally, I would head out to the desert, go to the top of a mountain, and have a friend with a walkey talkey drive away with a WiFi router in tow. The second-best option would be a high-rise in a densely populated city. Luckily, I was in the Washington, DC Hilton a few weekends ago for Shmoocon. This is how I tested my dish.
After the Dishes and Donuts meetup at Shmoocon, I took my dish up a few floors and pointed it out over the vast expanse of townhouses and embassies. The experimental setup consisted of the Adafruit ESP Huzzah, programmed to report all visible SSIDs (with RSSI) over a serial connection. Without the dish, I was able to see about a dozen or so SSIDs. With the dish, I saw about 150 SSIDs at max count. The dish works, and it works pretty well.
The performance of this dish is very good for something that is cobbled together out of 3D printed parts and five-minute epoxy. It's a 19-inch diameter dish, with an F/D ratio of 0.5. Theoretically, it should have a gain of 18.1 dBi if it were circular, and if the center of the dish was not in the shadow of the feed horn. My hexagonal dish is not circular, and the entire area of the dish is not illuminated, but I should still have a gain of about 16 to 17 dBi. Compare that to a commercial Cantenna at 12dBi, remembering decibels are on a logarithmic scale I did pretty well here!
An Experiment I Won't Be Repeating
This was originally an experiment to determine if it was possible to build a parabolic reflector that could be disassembled and reassembled easily. Did it succeed? Yes. But there are a few caveats.
My original plan to metallize the dish consisted of 3M spray adhesive and aluminium foil. This was a complete failure. Even though the surface of the dish can be a millimeter or two from perfectly smooth, there were far too many wrinkles than I wanted to deal with. The best solution for a relatively wrinkle-free metallic surface is duct tape.
I still have to properly characterise this dish. I know the gain is good enough, and in theory, it should be well above the common, cheap, commercial cantennas or WiFi patch antennas. To quantify this difference is another matter entirely. I'm open to suggestions on how to do this, but keep in mind all the mountain peaks around my house have trees on top of them. Line of sight is a luxury.
As with all my projects, I've put all the details for this project up on Hackaday.io. This includes all the .STL files to print your own. I'd be very interested to see if someone else builds their own 3D printed parabolic dish, even more so if the design can be improved upon. If you manage to print one of these out, please send it into the Hackaday tip line.