What was your first car? Mine was a 1965 Triumph Herald 12/50 in conifer green, and to be frank, it was a bit of a dog.
The Triumph Herald is a small saloon car manufactured between about 1959 and 1971. If you are British your grandparents probably had one, though if you are not a Brit you may have never heard of it. Americans may be familiar with the Triumph Spitfire sports car, a derivative on a shortened version of the same platform. It was an odd car even by the standards of British cars of the 1950s and 1960s. Standard Triumph, the manufacturer, had a problem with their pressing plant being owned by a rival, so had to design a car that used pressings of a smaller size that they could do in-house. Thus the Herald was one of the last British mass-produced cars to have a separate chassis, at a time when all other manufacturers had produced moncoques for years.
My 12/50 was the sporty model, it had the high-lift cam from the Spitfire and a full-length Britax sunroof. It was this sunroof that was its downfall, when I had it around a quarter century of rainwater had leaked in and rotted its rear bodywork. This combined with the engine being spectacularly tired and the Solex carburetor having a penchant for flooding the engine with petrol made it more of a pretty thing to look at than a useful piece of transport. But I loved it, tended it, and when it finally died irreparably I broke it for parts. Since then I've had four other Heralds of various different varieties, and the current one, a 1960 Herald 948, I've owned since the early 1990s. A piece of advice: never buy version 0 of a car.
Understand Manufacturing Through A Rusty Wreck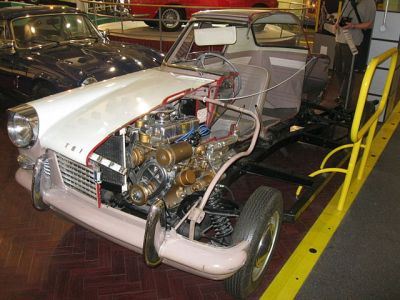 If you want to really understand mass production, own a classic car. By that I don't mean own a classic car in the sense of middle-aged men who wear string-backed driving gloves and keep a stable of gleaming garage jewelry they describe in terms of investment value. Instead I mean own one in the sense of keeping a tired old wreck on the road simply for the love of spannering. For that way you will find over time that there is no part of the vehicle with which you do not become completely intimate, you will at some point dismantle and reassemble all of its components. And as you do that you will become familiar with how a car is built, and what decisions shaped how it must have been put together.
On a Herald, most things are very accessible. The chassis based construction and unusual tilt-over front bodywork mean that there is less to get in the way than there would be on a monocoque vehicle. Of course there are one or two oddities. For example, I have never quite understood how they must have done up one of the nuts in the middle of the exhaust manifold. But mostly it's a modular car, which is why it lent itself to so many kit car designs of the 1970s and 1980s.
An Economical Yet Overly Complex Heater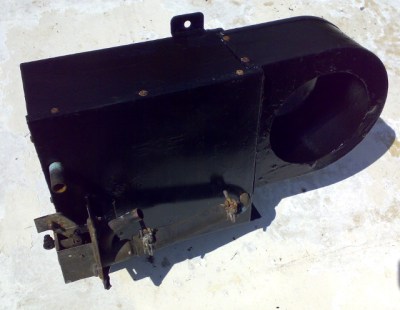 If there is one thing that sums up both the sheer idiocy of the Herald's design and the miraculous nature of mass production in enabling complex products to be made affordable, it's the heater unit. This sits in the engine bay beneath the windscreen, somewhere above the bell housing, and it's a pressed steel box containing a small radiator and centrifugal fan. The coolant valve failed on mine, and while I was at it I had the whole unit out, stripped it, and reconditioned it.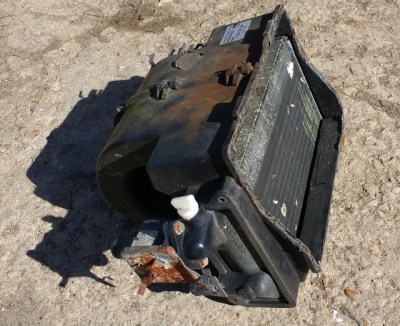 A modern car heater usually has two plastic moldings held together by spring clips. You position valve, motor and fan, and radiator core in the bottom one as though they were menu items from a TV dinner, pop the top molding on, and do up the clips. A masterpiece of design for economy of mass production. It's possible to take one apart in about a minute, and probably if you are practiced, to assemble it in the same time.
Not so the Herald heater. It's a beautifully made unit, consisting of several complex spot welded pressed steel assemblies held together by a huge number of small self-tapping screws. There is a main box with some complexity around its openings, a curved fan cowl with an insert for the air inlet, and a radiator unit. The radiator isn't the aluminium item with molded plastic end pieces you'd find in the modern car, instead it's a rather beautiful soldered brass affair. Taking apart a Herald heater is an undertaking that's not especially difficult, but it's one you'll have to put aside around twenty minutes to achieve.
Are We Really Disrupting Anything Here?
As I dismantled my rather rusty unit, I found myself wondering just how it had been manufactured, what had influenced its design, and just how it had been possible to consider mass producing them at a sensible price. The number of individual operations required to make each individual component is huge, and given that each one of them would have required an individual operator and machine it must have been quite an involved process. Comparing it with its modern equivalent, its percentage of the cost of the finished vehicle must have been significantly larger. It's amazing that a Triumph Herald or any other car could be produced at anything near a sensible price.
As makers, we're used to producing our work in one-off quantities. Imagine you needed a car heater and you couldn't just pull one from a scrap car, but you didn't have to go back to first principles like [Thomas Thwaites] with his toaster. Starting with a lot of brass sheet, tube, and a big soldering iron you could make a radiator in a day or two maybe, then perhaps you could do the sheet steel box in a morning. Add an off-the-shelf fan and motor, and maybe you could do it within a working week. I don't know what your rate is, but if someone hired me to do that I'd charge somewhere in four figures.
Britain in the 1950s and 60s was not a country of particularly low wages, yet much of its industry had not modernised far beyond its heyday of the Victorian era. The Herald line at the Triumph plant in Canley was reported as being very advanced for its time, but the component suppliers were probably much as they had been in the 1920s or before. We are fond of championing the power of our maker culture as a new form of manufacturing that is better than traditional mass production, yet this archaic factory producing ridiculously overcomplex car heaters shows us that even when the product has a spectacularly awful design from a time-to-build perspective we're still nowhere near the ease and economy of mass production.
I cleaned and repainted the components of my heater, reassembled it, and put it back in the car. The coolant valve that had failed is available as a remanufactured replacement part, but I balked at the outrageous £70 ($88) price tag and fitted a microbore plumbing gate valve instead. A warm car trumps originality, every time.
My shattered faith in maker culture as a new manufacturing paradigm may take longer to repair.