After booting up his RetroPie system, [jfrmilner] had the distinct feeling that something was off. Realizing that the modern Xbox 360 controller didn't fit right when reliving the games of his youth, he rounded up all his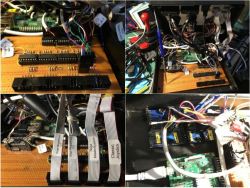 old controllers to make sure he always had the right gamepad for the game.
Wanting to keep the controllers unmodified — so they could still be used on the original systems — he had to do a bit of reverse-engineering and source some controller sockets before building his controller hub. Using shift-in registers, shift-out registers, and some multiplexers, he designed a large circuit selector — which acts as a shield for an Arduino Micro — so all the controllers remain connected. A potentiometer allows him to select the desired controller and a few arcade buttons which access RetroPie shortcuts really round out the hub. Check out the demo after the break!
[jfrmilner] kept the controllers relevant to the games he would be playing, but we hope there's some room to include a controller in rug format in his build. Of course, there's always the option of Jerry-rigging old systems to use your preferred retro gamepad.