Something you learn when you spend a good portion of your day trolling the Internet for creative and unique projects is that "Why?" is one question you should always be careful about asking. Just try to accept that, for this particular person, at this particular time, the project they poured heart and soul into just made sense. Trust us, it's a lot easier that way.
This mantra is perhaps best exemplified (at least for today), by the incredible amount of work [Stephen Robinson] did to convert a real Jeep Cherokee into a remote control toy. But the crazy part it isn't so much that he managed to convert a real Jeep to RC, it's that the first thing he did with it was take it into a field and destroy it.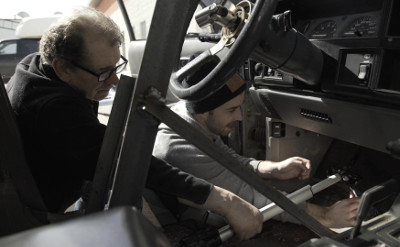 The stunt is part of a series of videos [Stephen] has on his YouTube channel called "How to learn anything". His goal in this series is to learn two different skills from industry professionals and combine them in interesting and unconventional ways. The production quality on these videos is really top-notch, and definitely blew us away considering how few subscribers he currently has. If we had to guess, we'd say [Stephen] is about to get real big, real fast.
As it turns out, the process for turning a full size vehicle into a remote-controlled one isn't actually that complex, relatively speaking. [Stephen] starts by removing the seat and replacing it with a metal frame that holds a motor salvaged from an electric wheelchair to turn the wheel, and a linear actuator to push the brake pedal. He lucked out a bit with the throttle, as this particular Jeep was old enough that there was still an easily accessible throttle cable they could yank with a standard hobby servo; rather than some electronic system they would have had to reverse engineer.
The rest of the hardware is pretty much your standard RC hobby gear, including a Spektrum DX6 transmitter and FPV equipment. Though due to continual problems with his FPV setup, [Stephen] eventually had to drive the Jeep up the ramp by line of sight, which took a few tries.
While this is still probably safer than riding around in a life-size quadcopter, we can't say it's the most sophisticated way a hacker has taken over a Jeep remotely.