If you buy a computer today, you're probably going to end up with a laptop. Corporate drones have towers stuffed under their desks. The cool creative types have iMacs littering their open-plan offices. Look around on the online catalogs of any computer manufacturer, and you'll see there are exactly three styles of computer: laptops, towers, and all-in-ones. A quick perusal of Newegg reveals an immense variety of towers; you can buy an ATX full tower, an ATX mid-tower, micro-ATX towers, and even Mini-ITX towers.
It wasn't always this way. Nerds of a sufficient vintage will remember the desktop computer. This was, effectively, a tower tilted on its side. You could put your monitor on top, negating the need for a stack of textbooks bringing your desktop up to eye level. The ports, your CD drive, and even your fancy Zip drive were right there in front of you. Now, those days of desktop computers are long gone, and the desktop computer is relegated to history. What happened to the desktop computer, and why is a case specifically designed for a horizontal orientation so hard to find?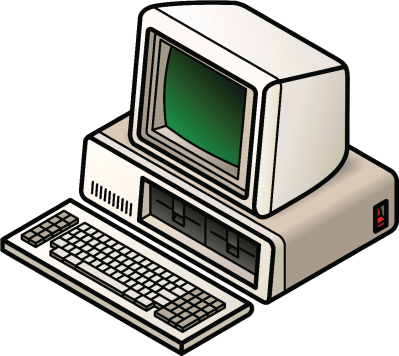 Dawn of Home Computers
From the beginning of the IBM PC era, the desktop computer was the default. The IBM model number 5150 shipped as a beige box with two 5 1/4″ floppy drives right up front, and if you ponied up the cash, a beautiful CGA monitor perched on top.
This machine became the foundation for the entire PC industry. The combination of the Intel 8088 processor, a PC-compatible BIOS, and ISA expansion slots became standard, but so did the form factor of the PC itself.  The Apple II, released half a decade before, put a motherboard and a keyboard in a single case, with some room for expansion slots. The maligned Apple III, released a year before, continued the tradition with an integrated keyboard and a monitor on top. Commodore's offerings at the time were again a motherboard and keyboard in a single enclosure. The Trash-80 had the same form factor as the Commodore. These were 'home' computers, and with the IBM PC and it's emphasis on business use, there was finally a new category of computer: the desktop PC.
From the original IBM 5150, the design of the desktop PC evolved. 3.5″ drives were added, power switches moved to the front, and the architecture was reasonably standardized. IBM followed the success of their incredibly popular AT and XT machines with the home-oriented desktop PCjr, and later the IBM PS/2 (no, not the port, the computer) series. Compaq, first to market their IBM-compatible portable computer, introduced their Deskpro series in 1984. This, again, was a plain beige box with a keyboard and video connector on the back, meant to be placed on a desk in a horizontal position. Dell followed suit, Gateway put cow print patterns on their boxes, and every computer was a desktop. Towers existed, yes, but every tower of this vintage you'll ever find was relegated to server duties or at least some sort of semi-headless configuration. How then did the tower take over? Like most design decisions in the world of personal electronics, from smartphones to horrific security bugs, the answer begins with Apple.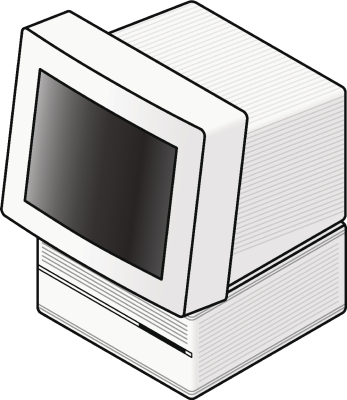 Apple's Design Influence
The original Macintosh was designed for simplicity. There were no expansion slots, and there was no color monitor. Combine a reasonably high-resolution monitor, graphical UI, and a fancy new laser printer, and you have a machine that would become a darling of the publishing industry. Aldus PageMaker made a mint, and soon there was a demand for even bigger monitors and more expansion slots. With the departure of Steve Jobs, it only made sense that Apple would give the Mac-buying public what it wanted.
This new modular Macintosh was a new dawn for the company, and the design of the computer leaned heavily on the standard desktop IBM-compatible PCs of the day. Released in 1987, the Macintosh II featured a beige box with 3.5″ disks in the front, power and video connectors in the back, six expansion slots inside, and a monitor perched on a slab of plastic designed by Harmut Esslinger, founder of Frogdesign. The Macintosh II was followed by the IIx, and later by the IIcx, a slimmed down version featuring only three expansion slots. The IIci, as evidenced by the positioning of the logo and branding screenprinted on the front, was designed as a desktop computer.
In late 1991, Apple introduced their new line of high-performance computers based on the Motorola 68040. The Macintosh Quadra began with the Quadra 700 and Quadra 900, a mid-tower and full-tower, respectively. Introduced alongside these monitors were a new line of monitors, including the enormous Apple Macintosh 21″ Color Display, a massive CRT with support for 1152×870 resolution that cost $4600 USD and weighed eighty pounds. We have come a long way.
The 21″ Color Display was Apple's response to massive monitors produced by third parties. Although third-party monitors had been sold since the days of the Mac Plus (an interesting story of hardware hacking itself), the market bloomed with the release of the modular Macintosh II. A Full Page Display (FPD) released by Radius gave the Macintosh true WYSIWYG desktop publishing; the FPD showed an entire 8.5×11″ piece of paper on the screen without scrolling. Radius followed this up with a Two Page Display, and the sublime Radius Pivot Monitor, a CRT that swiveled ninety degrees, changing the computer's desktop orientation from a horizontal to a vertical layout.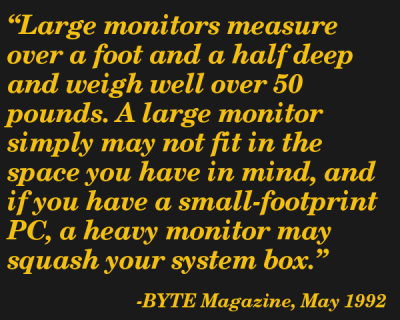 Squash Box
There was a problem with these third-party monitors. Like all CRTs, they were heavy, and the Macintosh II was big. If you've ever been inside a Mac II, there are few structural supports on the top side of the case. That's not a problem when the default monitor is a tiny 13″ CRT weighing less than thirty pounds, but slapping an eighty-pound monitor on a desktop will crack the plastic case. With the release of the Quadra 700 and Quadra 900, Apple simply couldn't ship a desktop computer that would be sold with a monitor weighing as much as a child. It would simply collapse under the weight of the awesome power and a base price of $5700 USD.
It is impossible to understate the importance of the Quadra 700 in the progression from ubiquitous desktop computers to towers. Despite being a much more capable, workstation-class machine, the 700 bore a striking resemblance to the earlier Macintosh IIci and IIcx. This is not a mistake — all three machines share a service manual. Except for a few changes to the plastic, the addition of removable, right-angle rubber feet on the Quadra, and a rotated logo, these cases are the same. Why, then, the change?
The simplest explanation is so consumers wouldn't be tempted to perch their 21″ monitor on such a tiny box. This is the clearest evidence you will ever get that the weight of CRTs is the reason an industry switched from desktop to tower cases. Is Apple solely responsible for the change? No, towers had existed for a decade before the introduction of the Macintosh Quadra. This, though, is the same case designed for 14″ monitors flipped on its side for 21″ monitors. You simply can't get better evidence of an engineering decision taking into account the weight of a monitor than that.
The Sublime Irony of Ubiquitous Towers
Go on Newegg, hit up /r/buildapc, and try to find a desktop case. They exist, and I've seen them in the wild, but you'll have a hell of a time finding one. You're far more likely to find open-frame cases made for benchmarking, or bizarre form factor cases that look like they came out of an alien egg sac. The closest thing you'll find to the traditional 'monitor on top' case are media PC cases, meant to sit beside your cable box underneath your TV.
There is a perennial joke that college students spend at least $500 on a monitor stand every semester in the form of textbooks. Massive monitor stands can be had for a hundred, at least, and the rising trend of standing desks is in part a response to having a monitor at an ergonomic eye level. There's something missing here, and it's something that can be solved by simply putting your monitor on top of your case.
Of course, with CRTs weighing close to a hundred pounds, this is impossible. We're at least a decade and a half past that and we've been enjoying light, thin LCDs for a while now. Cases can indeed support monitors again, but we're left with a box under a desk collecting dust. This is a technological amnesia most likely built from the memories of lugging a gigantic CRT around. Unfortunately, case manufacturers are still running with the towers-only paradigm, and the best solution for anyone who wants a desktop is gutting an old Packard Bell case. It may be beige, but it is, for some people, a bit more functional.