New York City's L train carries about 400,000 passengers a day, linking Manhattan and Brooklyn and bringing passengers along 14th Street, under the East River, and through the neighborhoods of Williamsburg, Bushwick, Ridgewood, Brownsville, and Canarsie. About 225,000 of these passengers pass through the Canarsie Tunnel, a two-tube cast iron rail tunnel built below the East River between Manhattan and Brooklyn in 1924. Like many other New York City road and subway tunnels, the Canarsie Tunnel was badly damaged when Hurricane Sandy's storm surge inundated the tubes with million of gallons of salt water. Six years later, the impending closure of the tunnel is motivating New Yorkers to develop their own ambitious infrastructure ideas.
Rerouting a Quarter Million Commuters
The Metropolitan Transit Authority (MTA) has steadily repaired the other damaged subway tunnels, but has left the L train for last. Rather than attacking the problem during night and weekend train outages, the MTA will entirely shut down the Canarsie Tunnel for a fifteen-month overhaul, scheduled to start in April 2019. With this critical connection between Manhattan and Brooklyn severed, hundreds of thousands of commuters will need a new way of traversing the East River.
The MTA's shutdown mitigation plan involves closing 14th Street in Manhattan to all vehicles but city buses, increasing bus service across the Williamsburg Bridge, and running more trains on the G, J, M, and Z lines. But before the MTA plan was even announced, enterprising New Yorkers began to develop their own solutions to the impending transit nightmare. One of the more ambitious plans suggests building a sky-high gondola that would connect Manhattan and Williamsburg, similar to the Roosevelt Island Tram. ReThink Studio presented a surprisingly thorough pitch to link the E and G trains and form a Manhattan – Brooklyn – Queens loop line that could improve commutes during the L train shutdown and for generations beyond.
The latest unconventional proposal comes from real estate investor and male model Parker Shinn, who is pitching a temporary floating pontoon bridge across the East River. His plan would provide two bus lanes and two pedestrian/bike lanes running from 8th street in Williamsburg, then across the river to 10th street in Manhattan. In Manhattan, the buses would then roll on to city streets, taking Avenue C and then running a circuit on 14th Street, delivering passengers to destinations on 14th where the L used to run.
Parker Shinn Has A Bridge To Sell You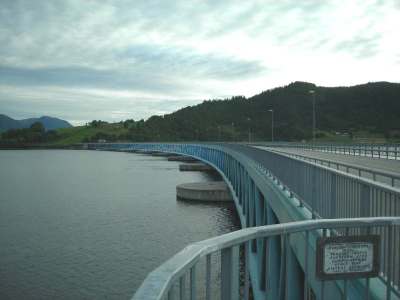 Shinn's idea of using a pontoon bridge would be significantly cheaper than constructing a real, permanent structure. A suspension bridge of this length, such as the nearby Williamsburg Bridge, would require the construction of enormous piers using caissons sunk to the river's bottom, miles of steel cable, and mammoth abutments on each side of the river. A pontoon bridge, however, simply floats on the water, with the weight of the bridge being resisted by the buoyant forces at the road deck's hollow supports. Temporary floating bridges have been used for thousands of years to move goods and equipment across bodies of water during military campaigns, and permanent pontoon road bridges now reach over two kilometers in length. The "L-Ternative Bridge" would be consist of 37 pre-fabricated truss segments, built and assembled off-site, then floated into place and anchored to keep them from drifting away.
Now that the project is in the Kickstarter campaign phase, Shinn's pontoon proposal has begun to receive loads of positive press from the New York City media and beyond. The project caught Hackaday's attention when Fred Wilson discussed it on the AVC blog. Unfortunately for L train commuters, it's highly unlikely that such a bridge will float across the East River any time soon.
Bridge Versus Barges, Government Cooperation, and Tides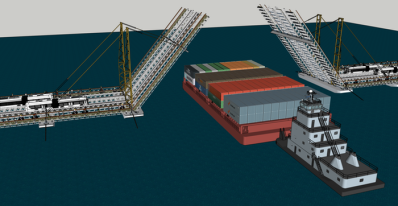 As Shinn mentions on his Kickstarter page, a drawbridge portion would necessary in order to allow for large ships and barges to pass. However, given the heavy maritime traffic on the East River, this drawbridge would probably spend more time up than down. Shinn also acknowledges that any construction of a bridge across a navigable waterway would require the formal approval of the United States Coast Guard. In addition, there are layers of lengthy environmental impact assessments and traffic studies that are required before embarking on such on a project. Even if these are somehow expedited, I would expect to see the project smothered by costly and time-consuming lawsuits.
Shinn has shown his bridge's Brooklyn side connecting with 8th street in Williamsburg, but this city street doesn't meet the water. Instead, the street's western terminus occurs at Kent Avenue, about 600 feet from the East River. The land in between the end of 8th street and the river is East River State Park, which is notably not the property of the City of New York. In other words, for Shinn's hundreds of daily buses to rumble through this 600-foot stretch, he would need full permission from the New York State Office of Parks, Recreation, and Historic Preservation.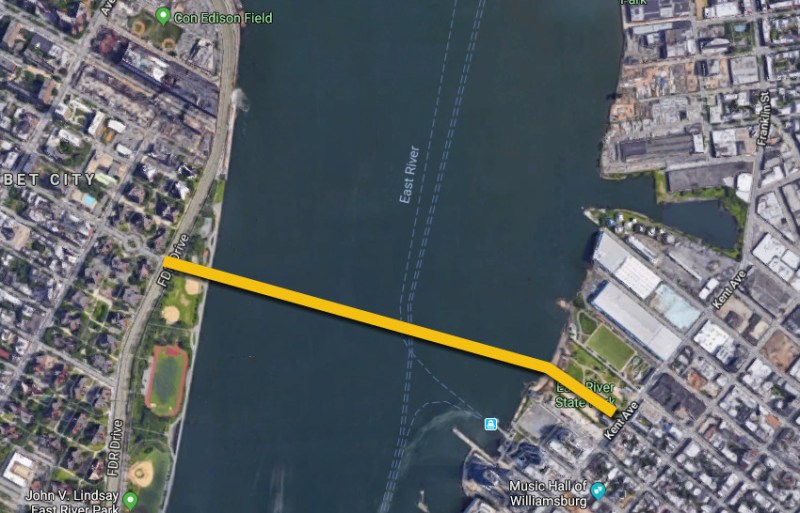 The Manhattan landing of the pontoon bridge would require an elevated portion over the FDR, a six-lane expressway that runs north-south along the east side of Manhattan. Shinn acknowledges that an overpass would be necessary here, but such a structure would require actual subgrade foundations to carry its weight down into the Earth. This type of congested foundation construction happens all the time in New York City, but if the bridge is to be open in twelve months, they had better begin taking soil samples now.
Finally, the East River is not technically a river: it's a narrow stretch that connects the salt water bodies of the Long Island Sound and the Atlantic Ocean, meaning that it would be more accurately called the East Tidal Strait. The currents here are particularly intense and unpredictable, tidal ranges are high, and the area is susceptible to intense storm surges. Whereas the fixed crossings over the East River are mostly immune to the effects of the turbulent waters below, a pontoon bridge would be at the mercy of the tides. It's unclear if the boat anchors that he's chosen will be able to resist the intense lateral forces on the bridge. Because of this exact concern, floating bridges are typically reserved for spans across calmer waters, such as lakes and particularly placid rivers.
Grass Roots Infrastructure
Though the construction of an East River pontoon bridge is highly unlikely, it is heartening to see citizens like Shinn actively pursue ambitious infrastructure projects. The MTA has been generally responsive to neighborhood feedback regarding the L train shutdown, but we should never remain passive in the face of significant changes that affect our daily lives. 150 years ago, John Augustus Roebling was just a private citizen with a big idea when he began the design work for the Brooklyn Bridge.
The pontoon bridge might be a solution that creates more problems, but a great workaround to the L train tunnel closing might still be out there. What kind of engineering wizardry would it take to keep commuters moving across the East River? Let us know in the comments below.
---
Alex Weinberg, P.E. is a structural engineer living and working in New York City. You can e-mail him at a@alexweinberg.com.