The last time we discussed machine tools, we talked about how to choose the size of the new metalworking lathe that your wallet is itching to pour itself into. The next big decision to make is "new or used?" If you're in North America, this question has a lot of overlap with the classic question "Import or American?". The answer boils down to what your needs are, and what you want to get out of this machine.
If you are new to machining, and want to learn the skills, I recommend starting with an Asian import machine. If you're careful which one you select, you'll end up with a very reasonably priced lathe that can do precise work right out of the crate. If your interest is in learning how these tools work, and in doing a restoration project, an old American machine is a great choice. Let's look at these two routes in more detail.
Navigating the World of Asian Import Tools
Buying an Asian import can be challenging, because there are a lot of choices. To complicate matters, there are a lot of local-to-you resellers who import these machines, fix them up (or not), repaint them (or not), and resell them. Sometimes you get technical support and an English manual in the bargain, sometimes you don't.
It's tempting to look at machines from Little Machine Shop, Harbor Freight, or Grizzly, see that they all look identical, assume therefore that they come from the same factory in China, and are thus equivalent in all but price. Don't make that mistake! These resellers often have a deal with the factory to build their machines differently (better bearings, different bed treatments, etc), and some resellers refine the machines themselves after import. Research is key here.
You really do get what you pay for. If an identical-seeming machine is priced $400 higher at Precision Mathews over Grizzly, it may be because they upgraded the bearings or include a higher quality chuck. Contact the resellers, research online, and know what you're paying for.
Consider the Timeline for Outgrowing Your First Lathe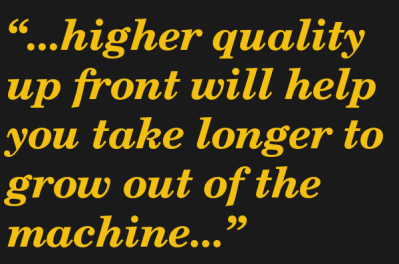 That said, the average quality level of these machines is now good enough that if you're just starting out, you'll learn a lot and can do good work on any of them. Buying higher quality up front will help you take longer to grow out of the machine, so spend as much as you can afford. The more skilled you get, the more you can get out of a good machine (and the more you can still manage with a bad one).
Machinist snobs still refer to these imports as "casting kits". The joke being they need so much fixing up to be good that they're useless except as a bucket of lathe-shaped cast iron bits that you can use to make a lathe. That may have been true back in the aughts when this consumer machine tool wave started, but it's definitely no longer the case (much).
"Old Iron" or New Production
Now let's talk American. There's little debate that the machines built in the 20th century by Americans (and also Germans, Swiss, Brits, and others) are top quality. These machines were not built to a budget price point like the consumer grade Asian machines of today are. They were built to last a lifetime with a company depending on them to do real production work, and were priced accordingly.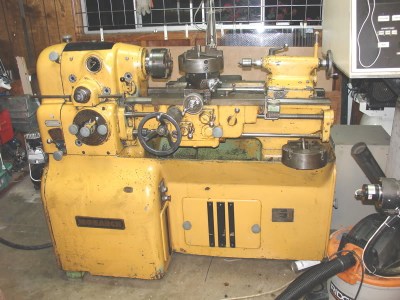 Nowadays, since the production in these countries has gone CNC, the old manual machines can be had for very little money. They are often in very good shape, since the initial quality was so high. The number one thing to look for in an old lathe is bed (aka "ways") wear and damage, especially near the chuck. You can learn to work around worn areas, but it's arguably unrepairable. If the ways are good, everything else is fixable (depending on your willingness to do restoration work). It can be challenging to find a ready-to-run vintage machine at a good price, though, so the Old Iron route is best if you're looking for a project.
Note that restoring an old lathe also often requires access to a lathe, because you may need to make shafts, bearings, bushings, etc. It's also worth noting that the Old Iron is usually big and heavy. Really Big. And Really Heavy. Before buying that beautiful Monarch 10EE, ask yourself, "Self, do I have the means to move and service a 3300lbs beast of glorious burden for the rest of my natural life?". Moving one of these machines without a forklift and a loading dock can be a multi-day project, and you need to know what you're getting in to. It can be done- people have moved them down narrow basement stairs, but research the techniques involved to see if you're up for it.
In some parts of the world, Asian import will be your only choice, because the Grand Old Ladies of the 20th century are basically impossible to ship outside their country of origin for any kind of price that would be worthwhile. They will forever remain in their country of birth. If you're based somewhere like Australia, Japan, or South America, look for local resellers who can take the guesswork and risk out of buying directly from the Chinese and Taiwanese factories.
Only Spend Half Your Budget
I'll leave you with a final thought to burn deep into your psyche. Only spend half your budget on the lathe itself. You will spend that amount or more on tooling. Experienced machinists always say this, and new machinists never believe it. It is true. You will be amazed at all the tool bits, tool holders, drills, chucks, indicators, micrometers, files, stones, grinders, reamers, scales, squares, blocks, gages, calipers, etc that you will need, and how quickly you will need them. Also don't underestimate the cost of stock. When learning, you want to use high quality free-machining steels, aluminums, and brasses; not scrap Mystery Metal™ you found behind the dumpster at Arby's. Quality stock can be quite expensive, but it's very helpful when learning and will help you do quality work, so don't forget about it.
There are lots more considerations around specific lathe features that will determine the right machine for you, but we'll get into that next time!