If you're interested in making things (particularly metal things), you're on a road that eventually leads to machine tools. Machine tools have a special place in history, because they are basically the difference between subsistence farming and modern civilization. A bold statement, I realize — but the ability to make very precise things is what gave us the industrial revolution, and everything that snowballed afterward. If you want to build a modern life filled with jet airplanes and inexpensive chocolate, start here.
Precision is more than just a desirable property. It's a product. It has value, there is competition to create it, and our ability to create it as a species has improved over time. When your "precision product" is in the centimeter range, congratulations — you can make catapults and portcullises. Once you get into the millimeter range, guess what? You can make fine millwork in fancy houses, and indoor plumbing. Once you get sub-millimeter, now things get really interesting. It's time for steam engines and automobiles. Once you get into the micrometer range, well, now we're talking artificial heart valves and spaceships. Much like materials science, the ability to create precision is the unsung foundation and driving force of our standard of living.
Okay, so assuming I've sold you on the value of this product called "precision", how do we make it? Machine tools are how humans currently get there, despite the dreams of the 3D printer crowd. Yes, drizzled plastic is great and the future is bright, but for right now, subtractive manufacturing is where it's at when something has to be perfect.
How do You Make Precision Tools Without Using Precision Tools?
Okay, so let's say it's 1751 and you've got a pretty sweet French society under Louis XV, but you want to invent machine tools. There's a chicken-and-egg problem here, because the secret sauce that allows machine tools to create precision is that they themselves are very precise. How do we make machine tools without machine tools?
The early history of the field is filled with incredibly clever people doing incredibly clever things to get around this problem. With careful designs, a machine tool can make a part that is more precise than the machine tool itself is. Yes, that sounds crazy, but we're going to learn all the ways that this is possible. These techniques are how, starting in an age of wagon wheels and horsepower made from actual horses, Jacques de Vaucanson was able to invent the first metal cutting lathe that we would recognize as such. Or perhaps it was Henry Maudslay in Britain, or Andrey Nartov in Russia. The history books tend to reflect the citizenship of the people writing them, so it's hard to know who was really first. Real history is messy, in any case, so maybe everyone was first.
Subtractive Manufacturing Crash-Course
Let's put the history books down now and talk about the current state of subtractive manufacturing. Machine tools come in two basic forms- single-point, and multi-point. Single-point cutting machines include things like lathes, boring machines, and shapers. Multi-point tools include things like mills (horizontal and vertical), jig borers, and broachers.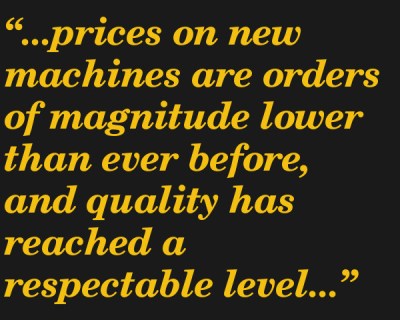 Modern machine shops will be mostly CNC these days, of course. However manually-cranked machines are far from obsolete. They are used in many countries where labor is still less expensive than technology. Furthermore, we're in the midst of a revolution of accessibility of manual machine tools for hobbyists. Thanks to Asian manufacturers, prices on new machines are orders of magnitude lower than ever before, and quality has reached a respectable level. Alternatively, extremely high quality used American machines from the early 20th century are plentiful and inexpensive (if you're willing to do some tuning-up).
I hope that gives you a feel for where this class of tools we call "machine" originally came from. We're at the start of a road that will be at times practical, at times theoretical, and at times heretical. Keep the history in mind, because we're going to be talking about the machines and techniques used in modern practice, but they all have their roots way back in the 18th century. Much has changed, but I think you'll find it surprising how much has stayed the same. This is the first in a series of articles aimed squarely at the reader who has never set foot in a machine shop, but is very interested to learn. Stay tuned!