It's hot! Hotter than it used to be, and too hot for things to remain nice in the future. The sun keeps beating down, and as our greenhouse gas emissions continue to blanket the earth, more of that heat is trapped, leading to the steady uptick in global average temperatures. Reducing these emissions can help, but there's other possibilities too. A team of researchers with a new very white paint think it might be of some use in solving the problem.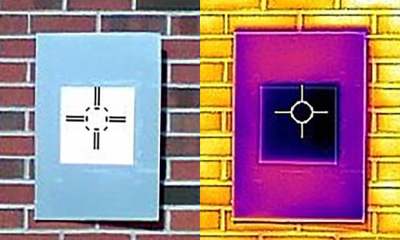 The new "whitest white" paint comes to us from Purdue University in the US. It's capable of reflecting 98% of sunlight reaching its surface, a big step up over the typical 80-90% of conventional white paints. Additionally, it doesn't absorb UV light, and can also radiate out heat in infrared wavelengths that pass out of the atmosphere. This allows the paint to cool surfaces below ambient temperature. The paint achieves these feats by using barium sulphate as a pigment, which doesn't absorb UV like conventional titanium dioxide white pigments do. The paint also uses a lot of pigment – 60%, versus 20-40% in a more typical paint. This is similar to techniques used in producing Vantablack, the blackest black acrylic paints.
The hope is that by painting roofs and walls of buildings with white paint, more sunlight will be reflected back out into space, and buildings will be naturally cooler with less reliance on air conditioning, helping to reduce emissions. This could go a long way to solving the heat island effect in many major cities. Municipalities around the world have already begun adopting the technique, from California, to New York and Ahmedabad. It's an easy thing to do, with few drawbacks, so we expect to see the practice grow more popular in coming years. While it won't solve the climate crisis on its own, the world could surely use every bit of help it can get.