Today, there's open source options for pretty much anything mainstream, but that doesn't mean there aren't still some niches out there that could benefit from the libre treatment. The CinePi project is a perfect example — before today we didn't even know that an open hardware and software cinema-quality camera was out there. But now that we do, we can't wait to see what the community does with it.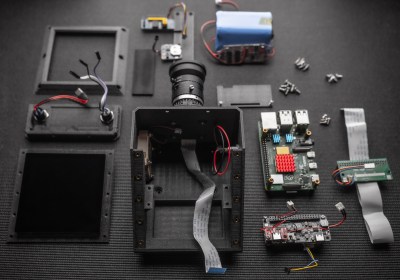 Inside the 3D printed enclosure of the CinePi, there's a Raspberry Pi 4 with HQ camera module, a four-inch touch screen, a Zero2Go power supply with four 18650 cells, and a Notcua fan to keep it all cool. The design intentionally favors modules that are easy to source from the usual online sources. You'll need to be handy with a soldering iron to follow along with the beautifully photographed assembly guide, but there's nothing that needs to be custom fabricated to complete the build.
The software was clearly developed with the user experience in mind, and in the video below, you can see how its touch interface makes it easy to change settings on the fly. While an amateur auteur might need to enlist the assistance of their geeky friend to build the CinePi, it doesn't look like they'll need them around to help operate it.
Of course, the big question with a project like this: what does the video actually look like? Well the technical answer is that, in terms of raw performance, the CinePi is able to capture 3840 x 2160 CinemaDNG video to an external device such as a NVME SSD or a CFExpress Card at 25 frames per second. But what that actually looks like is going to depend on what kind of post-processing you do to it. For the more practical answer, check out the short film TIMEKEEPER which was shot partially on a CinePi.
If this all looks a bit high-tech for your liking, don't worry. You could always 3D print yourself a 35 mm movie camera instead.