There's an allure to shooting film in the digital age which isn't quite satisfied by digital filters for your smartphone camera. Aside from the technical challenge of working with a medium limited in sensitivity compared to its electronic replacement there are aesthetic reasons for wanting to shoot with particular lenses not found on any modern cameras. Sadly though, movie film in formats such as Super 8 is expensive to buy and even more expensive to develop.
It's a problem [Blaž Semprimožnik] addressed with his Okto 35 camera, a unique design that fits a minute and 7 seconds of 8mm-like movie filming onto a much cheaper roll of 35mm still camera film. How does it achieve this feat? By splitting the width of the film into four parallel tracks of 8mm-sized frames.
The camera is a 3D printed design, with all mechanical functions performed by stepper motors to avoid the complex gear trains that would have been found in cameras from the home movie heyday. Each frame advance is a single sprocket hole on the 35mm film, and the track selection is performed automatically by moving the C-mount lens assembly sideways.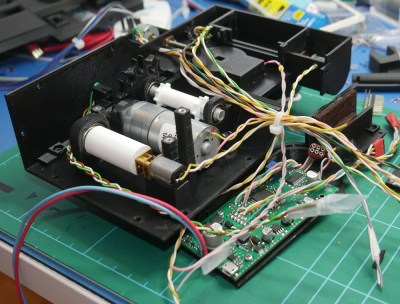 The result is a camera which is definitely unconventional, but which delivers something very close to that 8mm experience at a much lower cost per frame. There's no reflex viewfinder or through-the-lens light metering, but since this is a camera likely to be used by enthusiasts rather than by 1970s consumers we're guessing this won't be a problem for most users.
There doesn't appear to be anything in the way of downloadable STL files or other resources, probably because there's a possibility he might put the camera into limited production. For the amount of work that he's evidently put in we wish him luck, and given that the bench on which this is being written has more than one 8mm camera on it, we're even slightly tempted by one. You might be too, after you've watched the video below the break.
This is a novel approach to a 35mm movie camera for still film cartridges, but it's by no means the first. Previous ones we've seen have been full-frame designs though, capturing only a few seconds per roll.
Continue reading "Squeeze Over A Minute Of Movie Filming Onto A 35mm Still Cartridge" →