__ __         __            ___
  / // /__ _____/ /__  ___ _  / _ \___ ___ __
 / _  / _ `/ __/  '_/ / _ `/ / // / _ `/ // /
/_//_/\_,_/\__/_/\_\  \_,_/ /____/\_,_/\_, /
retro edition                         /___/ 

Now optimized for embedded devices!!
---
posted March 21, 2023 by Maya Posch
filed under: Repair Hacks, Retrocomputing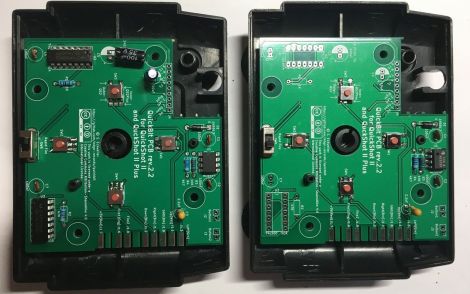 The Quickshot II was released by Spectravideo in 1983 for the Commodore 64 and compatible systems, with the Quickshot II Plus following the next year. After decades of regular use, it's quite understandable that these old-timers may be having some functional issues, but as long as the plastic parts are still good, [Stephan Eckweiler]'s replacement PCBs may be just the thing that these joysticks need to revitalize them for another few decades.
What may be a matter of taste is that these replace the nice tactile clicky switches on the QS II Plus with SMD push buttons, but compared to the stamped metal 'button' construction of the original QS II, the new board is probably a major improvement. As for the BOM, it features two ICs: a 74LS00 latch and NE555 timer, along with the expected stack of passives and switches, both through-hole and SMD.
The PCB contains break-off boards for the switches within the joystick itself, requiring a bit of wiring to be run to the main PCB before soldering on the DE-9 connector and connecting the joystick for a test run to a Commodore 64. All one needs now is a 3D printable enclosure version to create more QS II joysticks for some multiplayer action.
---
posted March 21, 2023 by Al Williams
filed under: Artificial Intelligence


In the old days of the Internet, FTP was sufficient for downloading the occasional file. But with the widespread use of computer audio and video, it was easy to swamp an FTP server so — eventually — BitTorrent was born. The idea was you would download bits and pieces of a file from different places and, in theory, people would download bits and pieces that you have if they need them. Now Petals wants to use this same method with language models. These AI language models are all the rage, but they take significant computer resources. The idea behind Petals is like BitTorrent. You handle a small part of the model (about 8 gigabytes which is small compared to the 352 gigabytes required), and other people have other parts.
Of course, if you are privacy-minded, that means that some amount of your data is going out to the public, but for your latest chatbot experiments, that might not be a big problem. You can install Petals in an Anaconda environment or run a Docker image if you don't want to set up anything. If you just want to access the distributed network's chatbot based on BLOOMZ-176B, you can do that online.
---
posted March 21, 2023 by Michael Shaub
filed under: 3d Printer hacks, hardware, News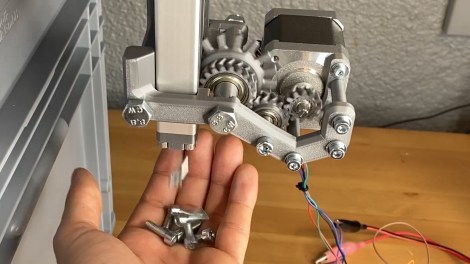 We've covered a number of projects that assist makers who need to fill orders for their small businesses, or kitting. [Helmke] has sorted thousands of pieces of hardware that they include with 3D printed parts sold online. They have been developing an alternative, a modular system for sorting and packaging specific quantities of parts.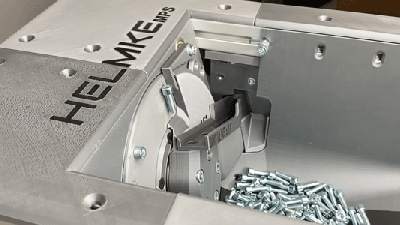 After the break, check out the latest video from their small but growing channel for a very clear walk-through of the counting system they've been iterating on. The 2nd video in the series explores solenoids, Geneva drives, and ultimately a sprocket to dispense a variable number of bolts from the sorting machine. The approach gives consistent results, easily to vary quantities, and is fast! These videos are also rich with lots of small details you might want to explore on your own like magnetic part feeding, discussions of different sensors for detecting and counting parts, 3D printed gear box designs, and we love the use of stackable crates for project enclosures.
We hope to see more videos from [Helmke] in the series as the project matures for deeper dives into the existing mechanisms and new features they develop next. Hungry for more? We've brought you everything from cutting and stripping wire, to SMD tape, to resistors, to laser-cut parts. Continue reading →
---
posted March 21, 2023 by Dan Maloney
filed under: 3d Printer hacks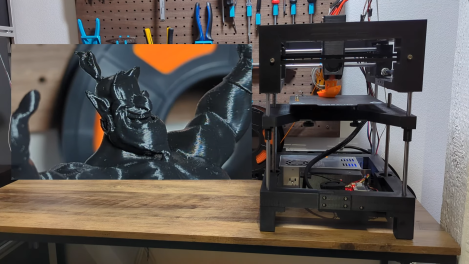 Truth be told, we generally find speed sports to be a little boring. Whether it's cars going around in circles for hours on end or swimmers competing to be a few milliseconds faster than everyone else, we just don't feel the need for speed. Unless, of course, you're talking about speedy 3D printers like "The 100", which claims to produce high-quality prints in a tenth the time of an ordinary printer. In that case, you've got our full attention.
What makes [Matt the Printing Nerd]'s high-speed printer interesting isn't the fact that it can do a "Speedboat Run" — printing a standard Benchy model — in less than six minutes. Plenty of printers can do the same thing much, much faster. The impressive part is that The 100 does it with a 3D-printed frame. In fact, most of the printer's parts are 3d printed, a significant departure from most speed printer builds, which generally shy away from printed structural elements. [Matt]'s design also aims to keep the center of gravity of all the printer's components within a very small area, which helps manage frame vibrations that limit print quality. The result is that the CoreXY gantry is capable of a speed of 400 mm/s and an eye-popping 100,000 mm/s² acceleration. What also sets [Matt]'s printer apart is that The 100 is designed to be a daily driver. It has a generous 165 mm x 165 mm print bed, which is far more useful than a bed that's barely bigger than a standard Benchy.
The video below has much more details on the open-source build, plus some nice footage of some speed runs. The quality of the prints, even done at speed, is pretty impressive. Perhaps there is a point to speed sports after all.
---
posted March 21, 2023 by Jenny List
filed under: History, Radio Hacks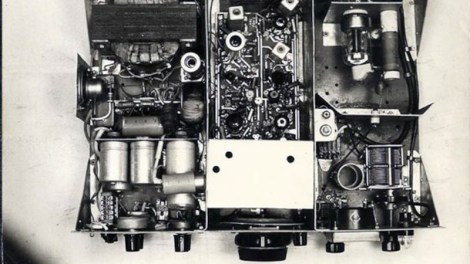 Some of the daily normalities of life in the Cold War seem a little surreal from our perspective in 2023, when nuclear bombers no longer come in to land just down the road and you can head off to Poland or Czechia on a whim. Radio amateurs were one of the few groups of civilians whose activities crossed the geopolitical divide, and even though an operator on the other side from ours couldn't buy a shiny Japanese radio, their homebrew skills matched anything we could do with our Western soldering irons.
[Bill Meara N2CQR] is particularly interested in one line of Cold War-era Communist homebrew radios, the tube-based Cuban "Islander" and its solid-state "Jaguey" sibling. It's a homebrew double-sideband transceiver design built using readily-available Soviet TV parts, and though he's published what he can find, he's on the lookout for more info about these interesting rigs.
The mechanics of a DSB transceiver are simple enough, in that an oscillator and balanced mixer can serve as both modulator and as direct conversion receiver. The fuzzy black and white photographs give frustratingly little detail, but we're impressed by the quality of what we can see. We have readers all over the world (including we hope, some in Cuba), so perhaps if you know something about these radios you can give Joe a hand. It's a design that deserves to be appreciated.
For more epic Cold War hackery on the Communist side, read our colleague [Voja Antonic]'s story of his personal computer odyssey.
---
posted March 21, 2023 by Tom Nardi
filed under: Artificial Intelligence, Hackaday Columns, Reviews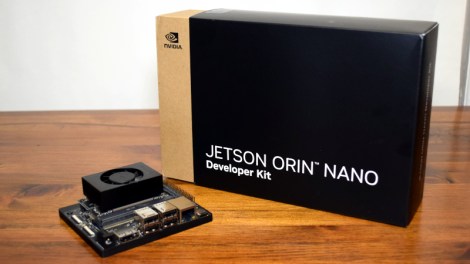 NVIDIA's Jetson line of single-board computers are doing something different in a vast sea of relatively similar Linux SBCs. Designed for edge computing applications, such as a robot that needs to perform high-speed computer vision while out in the field, they provide exceptional performance in a board that's of comparable size and weight to other SBCs on the market. The only difference, as you might expect, is that they tend to cost a lot more: the current top of the line Jetson AGX Orin Developer Kit is $1999 USD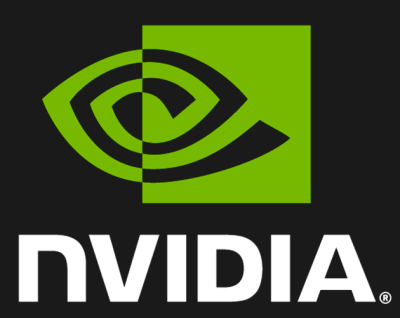 Luckily for hackers and makers like us, NVIDIA realized they needed an affordable gateway into their ecosystem, so they introduced the $99 Jetson Nano in 2019. The product proved so popular that just a year later the company refreshed it with a streamlined carrier board that dropped the cost of the kit down to an incredible $59. Looking to expand on that success even further, today NVIDIA announced a new upmarket entry into the Nano family that lies somewhere in the middle.
While the $499 price tag of the Jetson Orin Nano Developer Kit may be a bit steep for hobbyists, there's no question that you get a lot for your money. Capable of performing 40 trillion operations per second (TOPS), NVIDIA estimates the Orin Nano is a staggering 80X as powerful as the previous Nano. It's a level of performance that, admittedly, not every Hackaday reader needs on their workbench. But the allure of a palm-sized supercomputer is very real, and anyone with an interest in experimenting with machine learning would do well to weigh (literally, and figuratively) the Orin Nano against a desktop computer with a comparable NVIDIA graphics card.
We were provided with one of the very first Jetson Orin Nano Developer Kits before their official unveiling during NVIDIA GTC (GPU Technology Conference), and I've spent the last few days getting up close and personal with the hardware and software. After coming to terms with the fact that this tiny board is considerably more powerful than the computer I'm currently writing this on, I'm left excited to see what the community can accomplish with the incredible performance offered by this pint-sized system.
---
posted March 21, 2023 by Bryan Cockfield
filed under: Transportation Hacks, Wireless Hacks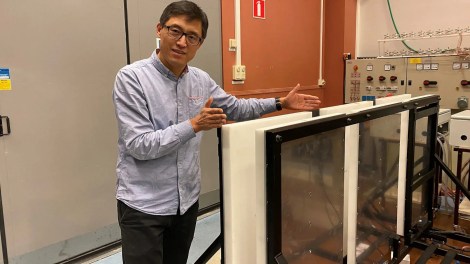 Despite the increasing popularity of various electric vehicles, the limits of battery technology continue to be a bottleneck in their day-to-day use. They don't behave well in extreme temperatures, they can wear out quickly, and, perhaps most obviously, charging them is often burdensome. Larger batteries take longer to charge, and this can take a lot of time and space, but this research team from Chalmers University are looking to make this process just a little bit easier.
The group has been developing an inductive wireless charging method for large vehicles including cars, trucks, busses, and ferries that can deliver 500 kW across a 15 cm (6 inch) air gap. The system relies on a silicon carbide semiconductor and extremely thin copper wire in order to make all this happen, and eliminates the need for any human involvement in the charging process. This might not be too much of a hassle for plugging in an electric car, but for larger vehicles like busses and ferries traditional charging methods often require a robot arm or human to attach the charging cables.
While this technology won't decrease the amount of time it takes batteries to charge, it will improve the usability of devices like these. Even for cars, this could mean simply pulling into a parking space and getting the car's battery topped off automatically. For all the talk about charging times of batteries, there is another problem looming which is that plenty of charging methods are proprietary as well. This charger attempts to develop an open-source standard instead.
Thanks to [Ben] for the tip!
---
posted March 21, 2023 by Kristina Panos
filed under: Featured, Interest, Musical Hacks, Original Art

How do you take your music these days? For those in Camp Tangible, it seems our ranks are certainly growing, and in the analog direction. For the first time since 1987, vinyl record sales have outperformed CD sales in the US, according to a new report. The CD, which saved us all from the cassette, was a digital revolution in music. But for some, the love was lost somewhere among the ones and zeroes.
Those who prefer pure analog troughs of sound cut into wax have never given up on vinyl, and the real ones probably gobbled up a bunch of it in the 90s when everybody was CD-crazy. But mind you these aren't used vinyl sales we're talking about, which means that enough new vinyl has to have been readily available for purchase for quite some time now. Although it doesn't really seem like that long, new vinyl's been back for almost 20 years — and according to the report, 2022 was the 16th consecutive year of growth for record sales.
So Why Vinyl?
Nostalgia ain't what it used to be, but there was a time in my 1980s childhood when vinyl was all this scribe had to listen to. I have historically been a bit slow to adopt new music formats — I didn't have a CD player until 1998, and it was given to me for my birthday. I was excited to get the thing, mind you, especially since it had 10 seconds of anti-skip protection (which of course was a huge concern with portable CD players).
But CDs are way different from records. Sure, they're both round, but the similarities sort of end there. For one thing, the artwork is disappointingly small compared to vinyl. And the whole gatefold album cover thing isn't really possible with a CD, unless you forego the jewel case and release it in a chintzy little cardboard jacket. But then people will have this one disc that's four times thinner than the rest and it throws everything off in the collection.
---
posted March 21, 2023 by Jenny List
filed under: Parts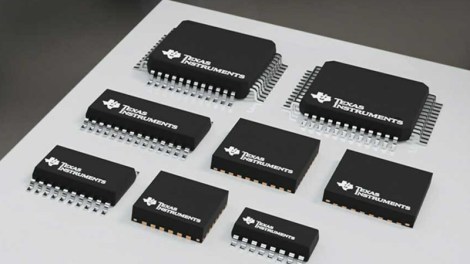 One of the interesting areas in the world of new parts recently has been at the lower end of the microcontroller market. Not because the devices there have new capabilities or are especially fast, but because they are cheap. There are now quite a few parts from China under 10 cents apiece, but have the Western manufacturers been able to follow suit? Not quite, but Texas Instruments has a new line of ARM Cortex M0+ parts that get under 40 cents in volume in their cheapest form.
That bottom-of-the-range chip is the MSPM0L1105, a single-core 32 MHz part with 32k of Flash and 4k of RAM. It's got all the usual peripherals you'd expect on a small microcontroller, but the one which made our heads turn was the on-board 1.45-Msps ADC. On a cheap chip, that's much faster than expected.
So there's another microcontroller, and it's not as cheap as some of its competition, so what? Aside from that ADC there are several reasons to be interested, it has TI's developer support if you're in that ecosystem, and inevitably it will find its way on to the dev boards and SBCs we use in our community. It remains to be seen how it will fare in terms of the chip shortage though.
Meanwhile, here's a reminder of that cheaper competition.
Thanks to the several friends who delivered this tip.
---
posted March 21, 2023 by Bryan Cockfield
filed under: Games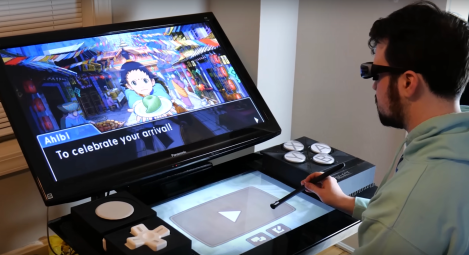 While the Nintendo 3DS was capable of fairly impressive graphics (at least for a portable system) back in its heyday, there's little challenge in emulating the now discontinued handheld on a modern computer or even smartphone. One thing that's still difficult to replicate though is the stereoscopic 3D display the system was named for. But this didn't stop [BigRig Creates] from creating this giant 3DS with almost all of the features of an original console present.
The main hurdle here is that the stereoscopic effect that Nintendo used to allow the 3DS to display 3D graphics without special glasses doesn't work well at long distances, and doesn't work at all if there is more than one player. To get around those limitations, this build uses a 3D TV with active glasses. This TV is mounted to a bar stool with the help of some counterweights, and a second touch-sensitive screen courtesy of McDonalds makes up the other display.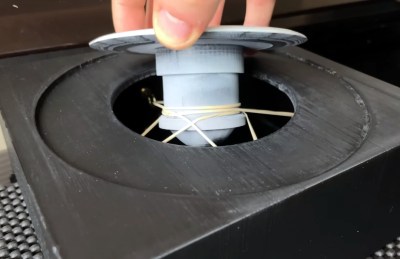 The computer driving this massive handheld console runs Citra, and also handles the scaled-up controls as well. To recreate the system's analog touch pad, a custom joystick tipped with conductive filament is used to interact with a smartphone hidden inside the case. Opposing rubber bands are used to pull the stick back into the center when it's not being pushed.
Plenty of 3DS games are faithfully replicated with this arcade-sized replica, and as Citra supports various 3D displays, upscaling of the graphics, and the touchscreen interface, almost everything from the original console is produced here. There are a few games that don't work exactly right, but all in all it's a remarkable build and, as far as we can tell, the largest 3DS in the world. Don't forget that even though this console is out of production now, there's still a healthy homebrew scene to take part in.
---
(c) 2023 Hackaday.com. All Rights Reserved.