If your parents had a workshop as you grew up, the chances are it harbored some tools you came to know and love as you used them for your formative projects. Our reader [Joerg]'s father for instance has a circular saw bench that [Joerg] sorely misses, now living over 500km away. Our subject today is his response to this problem, now needing to cut aluminium he set about creating a  saw bench of his own, and the result is a rather nice build.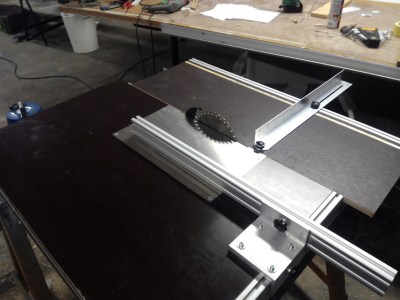 He put together a variety of CAD models to formulate his ideas, and arrived at a structure in 18mm waterproof plywood with moving table linear bearings. The saw blade itself was mounted on a 5mm aluminum plate, though he doesn't tell us what motor it uses. All the wooden parts came from a single sheet of plywood, and the result is a very tidy creation indeed.
Power saws are among the more hazardous tools in your workshop arsenal, whatever their type. If this was a commercial saw it would probably have a guard over the top of its blade, but even without that its sturdy construction and relatively low profile blade make this one stand above some of the more basic home-made saws we've seen. Building a power saw is something you have to take seriously.
We've featured quite a few home-made saws over the years. At least one other large table saw, a rather powerful but surprisingly tiny saw bench, this scroll saw using a sewing machine mechanism, or how about this simple jigsaw table?